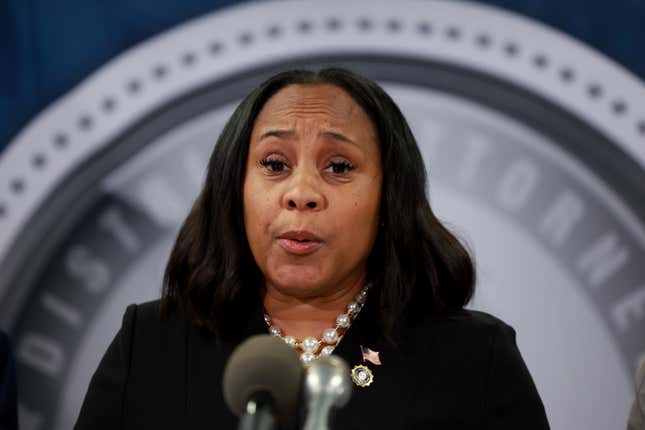 It might seem odd–difficult or even a tinge disrespectful–to put into words a consideration of how significant any one Black woman might be to the rest of the country right now. We are, after all, in a space where Black women at large are having a moment: income and wealth gaps persist, reproductive rights are under attack and misogyny is ever present and yet Black women are creating businesses at a faster rate than any other group, ascending in politics and remaining the arbiters of not just the culture but of culture writ large.

But no disrespect is meant at all here. Not to Mellody Hobson, the titan in finance who's also part-owner–along with former Secretary of State Condoleza Rice–of the Denver Broncos. Not to Rice herself, or to Serena or Beyonce or Oprah or Ketanji or Kamala. It's just that at this very moment, the most significant Black woman in the country, if not the most important person period, is Fani Willis, the elected prosecutor in Fulton County, Ga., who this week indicted Donald Trump and 18 of his goons for trying to steal democracy.


Can Donald Trump Serve As President From Prison?
I will die on this hill, and here's why. You might be tempted to look at Willis' indictment the same way you feel when you hear your cousin who keeps getting locked up on petty possession charges. Trump seemingly gets charged with a new thing every week, and it's clear he ain't about to change his ways. But the Georgia charges arguably represent the most significant case that Trump faces. In effect, Willis is arguing that Trump turned his campaign into a mafia faction whose orders from their boss were to steal the election by any means necessary, and whack anybody who might cause too much trouble in the process.

That's almost astonishing for two reasons. First, there's never been an American president–or any official even close to that office, charged with running an organized crime ring. And that's despite decades of lore, if not hard evidence of how much influence actual Cosa Nostra has had on the operation of the country. Movies from Martin Scorsese's The Irishman and series the Bumpy Johnson saga Godfather of Harlem speculate on everything from the mob's involvement in the Cuban missile crisis to John F. Kennedy's assassination. Yet it took until 2023 for an actual president to face the prospect of prison for actually committing organized crime. That guy is Trump, and the person attempting to bring him down is Willis.
Which brings us to the second reason that what Willis is doing is not only ballsy, but more significant than anything else happening right now. Willis and her office have been torched in various commentaries about her leaning into Georgia's RICO statute–originally intended to take down mafiosi–to go after alleged gang members, most famously rappers and hangers-on in Young Thug's Atlanta-based YSL crew. I won't dissect the merits of that strategy for fighting crime here, but I'll note that having already brought racketeering cases would have given Willis and her team time to hone their skills at actually trying such a case. Intentional or not, by the time Trump and his crew are tried in Georgia, the YSL would have amounted to a dry run in which Willis' office gleans how this kind of case plays out in front a judge and jurors in Georgia, which motions and tactics work, and which fall flat.
That won't be insignificant, because ultimately what's at stake is, well, the country. That bit of hyperbole is repeated over and over and over as it relates to Trump but I'll tell you again, this case is different. A partial list of the charges spells it out: Solicitation of Violation of Oath By Public Officer, Criminal Attempt to Commit Influencing Witnesses, Conspiracy to Commit Election Fraud and finally, Conspiracy to Defraud the State. In plain English, Donald Trump is accused of running a crime ring that actually tried to steal the country, specifically by defrauding the state of Georgia, threatening public officials and election workers. The charges he faces here might be similar to those he faces from federal prosecutors, but there's a major difference: if he becomes president again, Trump can snap his fingers and shut down the federal case unless a judge–possibly one appointed by him–intervenes. He could even pardon himself.

He has no such influence over Fani Willis. She could literally be the very last human standing between the United States–as flawed as we know it to be–and a Trumpian autocracy.
Keith Reed is a freelance writer and editor based in Georgia