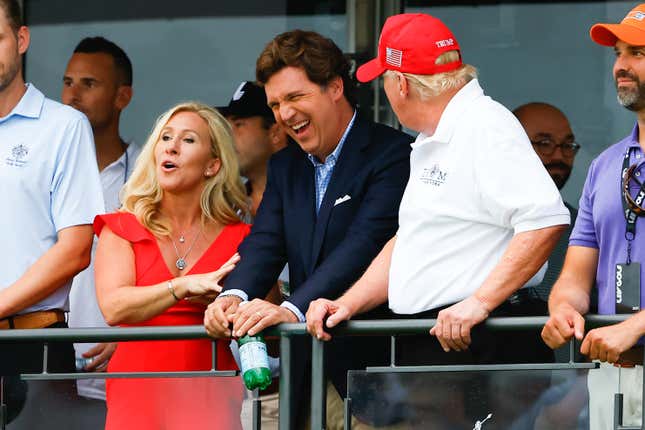 The Republican primary election is in full swing. On Wednesday, the candidates will gather for the first Republican primary debate, which, if previous election cycles have taught us anything, will likely be unhinged. But this year, the debate will be missing something or, rather, someone.
Tucker Carlson Might Be Gone But Fox News Remains a Cesspool of Hate
Donald Trump Ditches The Debate For Tucker Carlson
Republican Frontrunner Donald Trump will be ditching the first primary debate. Since Trump is far outpacing his opponents, his decision to skip the Wednesday night festivities undoubtedly lessens its relevancy.
However, the former President won't be sitting around watching the debate from his couch. In clear F-U to Fox News, which is hosting the debate, Trump will be sitting down with disgraced former Fox News host Tucker Carlson.
Carlson was fired in April after a lengthy legal defamation suit against the company brought by Dominion Voting Systems. The suit alleged that Carlson and others lied about the 2020 election results. Carlson's longstanding racist rhetoric, including a text message about January 6th, appears to have also gotten the host in hot water.
Because Carlson no longer has a network, it's unclear exactly which network or steaming service the interview will be on.
Who Will Be on Stage?
Alright, so who will be on the debate stage on Wednesday? On Monday, the Republican National Committee announced that eight candidates qualified for the debate. The qualifying candidates include Florida Governor Ron DeSantis, Senator Tim Scott (R-SC), former South Carolina Gov. Nikki Haley, former Vice President Mike Pence, former New Jersey Gov. Chis Christie, Vivek Ramaswamy, North Dakota Gov. Doug Burgum, and former Arkansas Gov. Asa Hutchinson.
With the exception of DeSantis, all of these candidates are polling in the single digits. And even in his absence, candidates looking to climb up in the polls will be incentivized to come for the frontrunner. DeSantis, who got heat from some of the other candidates about his bizarre spin on slavery, will also likely be in the crossfire.
Where to Watch
For anyone dying to watch the debate, it'll be available on Fox News, Fox Business Network, Fox's streaming platforms, and Rumble (i.e., far-right Youtube).
The two-hour debate will be on at 9 pm E.T.