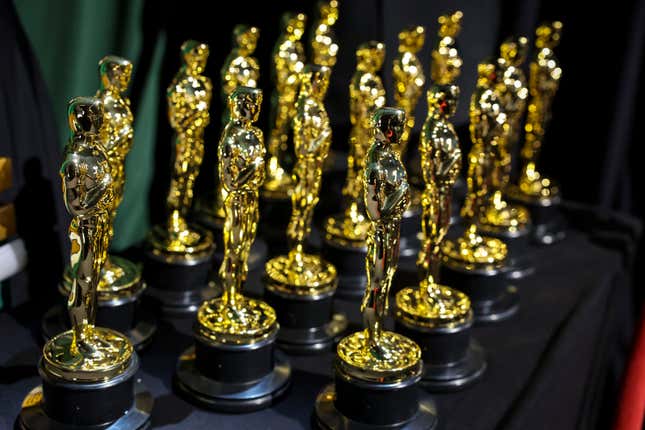 On Sunday, the 2023 Oscars took place live from the iconic Dolby Theater in Los Angeles.
The 2023 Oscars Features No Shortage Of Controversial Snubs
It was my very first time attending and from the moment I stepped on the champagne carpet (they switched it from red this year which is something I'm admittedly salty about, but I digress)—the glitz and glam of Hollywood's biggest night were on a thousand. Leading up the venue, there were Black Escalades and Suburbans up and down Hollywood Boulevard, which made for a nightmare of traffic. However, once you got through the hubub, that's when the magic of the moment truly begins. There were plenty of things I expected and plenty I didn't, so let's get into it.
The Best Part of Watching the Oscars Live Isn't Actually Watching the Oscars Live
I know what that sounds like—but let me explain. I was lucky enough to receive a seat inside the actual theater and the one thing that I noticed immediately was how huge it actually was. I was up in the mezzanine but I could see Angela Bassett's stunning purple gown from up high. A handful of people were noticeably getting up and leaving for various lengths of time during commercial breaks. After another round of folks left, my curiosity was peaked and so I got up from my seat to see where they were going.
Lo and behold, it was to the lobby where there were copious $400 bottles of Brad Pitt's Champagne Fleur De Miraval being popped and various Tequila Don Julio mixed drinks were being served. Folks were gathered around at tables, standing and chatting, munching on caramel popcorn and trail mix, and watching the award show on a giant TV—almost like a watch party. It was lively crowd, which I later consisted of everyone from reporters, to film executives, influencers and more. Now I understood why everyone kept leaving.
I decided to split my time between standing out there and sitting inside, a large part of my reasoning being that outside of the theater was the only place you could have a snack during the three-hour-long show. Which leads me to my next observation...
The Governor's Ball Has the Best Celeb Sightings—and the Best Food
In case you don't know, the Governor's Ball takes place immediately after the show is over and like a gang of school kids on the way to a field trip—people gathered all at once to head there. It was in the same building as the Oscars, which is convenient, and on the way there I was blessed to see my Oscar winner Angela Bassett in all her glory. She and husband Courtney B. Vance, whom I spoke to on the red carpet at the 2023 American Black Film Festival Honors (ABFF) last Sunday, were gracious as people complimented her on her look and congratulated her on a deserved nomination. (I was able to exchange pleasantries as well with her and she's just as bit as radiant and integrous as she seems. To hell with what the internet says.)
I also chatted with Nate Parker (yes, that Nate Parker) on the way over, who engaged in conversation with me about my thoughts on the show. We had a silent Black person commentary with our eyes after I told him it was interesting (you know why), which was a sentiment he also shared, before we went our separate ways.
Inside, the room was packed from wall to wall with people, food, partying and yup, you guessed it—more champagne and Don Julio. It was nearly impossible to get through and see through at a certain point, but that didn't stop me from spotting Ryan Coogler and his wife Zinzi chatting it up with people. In a fun turn of events, moments afterward, two-time Oscar winner Ruth Carter came dancing in with her award and who could blame her?
Over by the dessert tables (yes there were two and yes I ate at both of them,) I got the chance to chat with Oscar nominee Brian Tyree Henry who told me he reads The Root regularly and appreciated our support.
Now about the food: THERE WAS SO MUCH. I know Everything Everywhere All At Once is the name of the Best Picture winner but the phrase itself could also applied to food offerings because there was a plethora of options to choose from. From mini burger and fries, to mac'n cheese, a 12-foot-long "grazing table" (which was just fancy phrasing for "hella big charcuterie board), to a pizza station, jackfruit tacos, to mini-chocolate Oscars covered in edible 24k gold—it was more than enough to make up for the snacks at the show.
The Blackest Thing At the Oscars Was the Governor's Ball Playlist
Yes, you read that right and no, I was not surprised. It's no secret music by Black folks always tends to get the party jumping and last night was no exception. Whether it was Usher, Doja Cat, Lizzo, Montell Jordan, Lil' Jon, Stevie Wonder, Michael Jackson or Beyonce's Renaissance, the sounds of the night were, in short, LIT. That was more than likely due to the fact that there were two Black deejays (DJ Kiss and a woman) on the ones and twos. They kept the energy high and the people smiling, which made it really hard to want to end the night.
All in all, my night as a first-time Oscar attendee was just as I imagined and then some. The only thing I wished was to see Angela or Brian win (and to also have worn shoes with a lower heel), but overall it was a night I'll never forget.