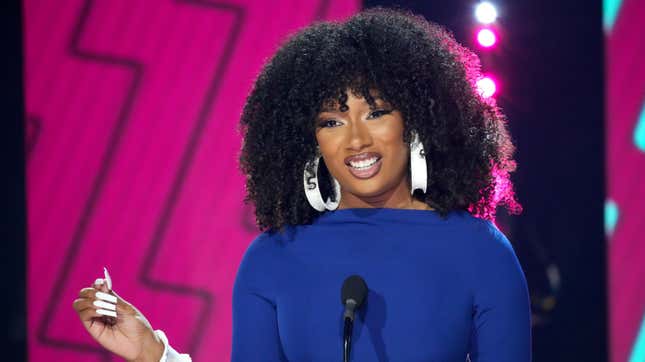 If you're looking for some good news (ha!) about when you can expect new music from Megan Thee Stallion, then you'll unfortunately be waiting just a little while longer.
Handmade Eyelashes by Black-Owned Minx + Mane Is Our Swag of the Week
In a new interview with InStyle, the "Anxiety" rapper revealed that she's currently focused on healing (after the tumultous Tory Lanez trial that seems to be never ending—I can only imagine why), so fans will have to just kick back, relax, and bump her most recent project Traumazine in the meantime.
"Fans can expect new music when I'm in a better place. Right now, I'm focused on healing," Thee Stallion explained. "The music and entertainment industry can be a grind, so it's important to take time off and avoid burning out. Life is all about balance."
And she's absolutely right. Since Lanez's guilty verdict back in December 2022, the "Body" rapper has been keeping a relatively low profile, taking time for herself, playing with her dogs and doing a lot of praying in the months following, as she detailed in her personal essay for Elle Magazine last month.

However, it appears she may also have squeezed in some time for a new romance as rumors of a new relationship between herself and Belgian football (read: soccer) star Romelu Lukaku. This due largely to pictures of the two attending Lukaku's teammate's wedding over the Memorial Day holiday that began floating all over social media on Tuesday.
While neither party has confirmed whether or not they're exclusive as of yet, what is clear is that the relationship between Thee Stallion and Pardison "Pardi" Fontaine is over seeing as how there are no traces of each other on either one of their official social media accounts anymore. Has Thee Hot Girl Coach just turned Hot Girl Summer into a Boo'd Up Summer? Only time will tell.