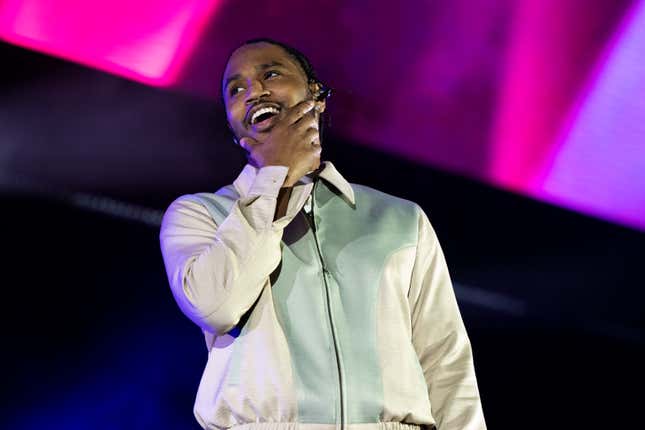 It looks like the legal tide may be finally turning when it comes to Trey Songz, stemming from at least one of the sexual assault lawsuits he's facing.
My Hip-Hop Story: Cedric The Entertainer On Jay-Z and His Indisputable Role In Shaping The Genre's Culture
According to new court documents, the Anticipation singer and his legal team are seeking to get the suit dismissed entirely citing bribery on behalf of the accuser's lawyer to a witness in the case, per Hot New Hip-Hop.
As previously reported by The Root, in February 2022, Jauhara Jeffries filed a suit against the Ready artist in which she claimed he sexually assaulted her at a nightclub on New Year's Eve back in 2017. As you may recall, at the time, Songz and his legal team claimed that there was some witness tampering going on on behalf of Jeffries' lawyer. They said that there was an additional witness—Mariah Thielen—who was present that same night who was around both Jeffries and Songz, and that this witness denied seeing the entertainer "inappropriately touch" her or "anything that could have resembled that."
Songz's lawyers also claimed that the same witness was approached by Jeffries' lawyer in an alleged attempt to bribe her into giving a different account, bringing her in as a "co-plaintiff" and offered "a payout between $100,000 and $200,000."
Now, that same witness has officially testified under oath that she was indeed allegedly approached by Jeffries lawyer, who told her that she wanted to "paint Trey as the next R.Kelly."
"She's wanting to come for blood, she's going to get other girls to join the team, and run it to the blog sites," Thielen said of Jeffries' lawyer, later adding that the lawyer allegedly told her: "She doesn't care if it's a lie, that this will bring up her career when she wins this case, and that there's blood in the water. She's a shark, and she's going to eat."
Jeffries' lawyer has denied Thielen's claims. Trey Songz has also denied any wrongdoing in this case.
Additionally, these allegations are just one of several brought against the Trey Day artist. He, along with Kevin Liles, Atlantic Records and Songz own label are all named in a $25 million sexual assault lawsuit stemming from a 2016 encounter. In January 2022, artist and former UNLV basketball player Dylan Gonzalez also accused him of rape in a lengthy post on social media.