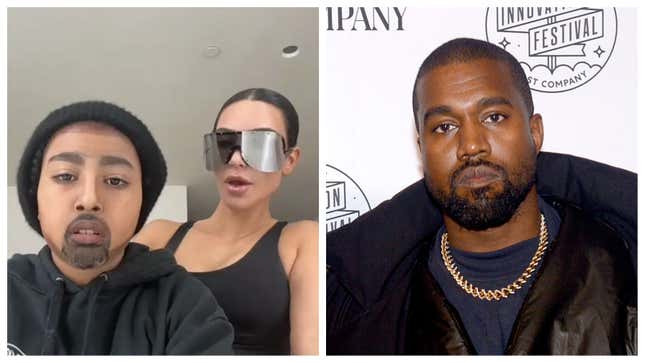 North West, the oldest child of Kim Kardashian and Ye, the artist formerly known as Kanye West, is no stranger to social media. In fact, the nine-year-old and her mom frequently post random, funny videos to TikTok quite often (much to the chagrin of West, as he's previously expressed online.) So it's a wonder why the latest video posted by the mother-daughter duo is causing quite a stir.
Remembering De La Soul's David Jolicoeur And The Group's Hit Song "Me Myself And I"
Per Buzzfeed News, in a video posted on Thursday, North can be seen with a made up face strongly resembling that of her father. Meanwhile, her mother dons a pair of oversized shades and a black tank top while lip syncing to West's 2013 hit song "Bound 2," (which infamously featured a stark naked Kim K in the music video). And it's folk's memory of that video, the sexual imagery in it, and Kim's perceived sexual movements in the TikTok that has users up in arms about the two cosplaying it.
"It's highly inappropriate. It would maybe be okay if Kim turned off the sexy for 2 seconds, but with it...and the context...just gross and uncomfortable," wrote one user on a Reddit forum.
Said another, "It's not North dressing up as Kanye that we find weird. What we find weird is Kim trying to be all sexy and sensual beside her daughter who is dressed up like her ex. Like of course its normal for parents to dress up and roleplay with their kids, but acting even remotely sexual beside them? If you find that sort of thing funny then..."
Some commenters on that forum also condemned the TikTok as "weird," "cringe," and "uncomfortable." Others questioned why Kardashian would even agree to film something like this, even if it was North's idea in the first place citing the sexual nature of the original music video.
The answer to the latter question may have something to do with the KUWTK star wanting to put on a brave face in front of her kids when it comes to their father, as she recently explained on the Angie Martinez IRL podcast. Divulging that it's "really fucking hard" to co-parent with West, Kardashian explained that she tries to shield her kids from any negative press and talk about him so that they can hold on to the happy memories they share with their dad.
"I had the best dad and the best memories and the greatest experience and that's all I want for my kids. As long as they can have that, that's all that I would want for them," she said at the time.
Of indulging her kids when they want to connect to their dad while they're with her, she further added: "If we are riding to school, and they want to listen to their dad's music—no matter what we are going through—I have to have that smile on my face and blast his music and sing along with my kids. [I can] act like nothing is wrong and as soon as I drop them off, I can have a good cry."