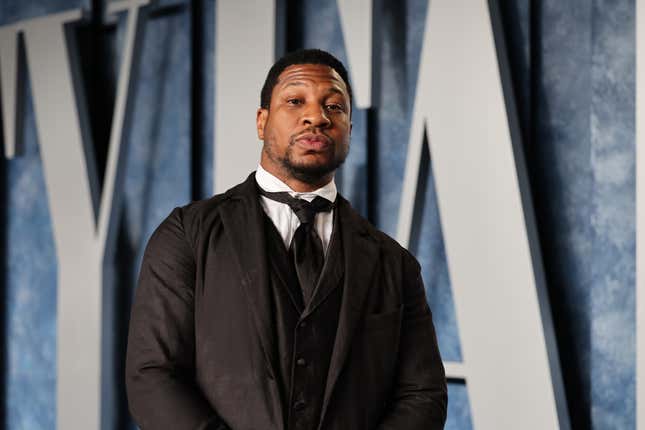 Thought the SAG-AFTRA strike has caused many actors to be out of work, it seems Marvel star Jonathan Majors has found another role to take on in the meantime: good Samaritan.
America's Got Talent Host, Terry Crews, Shows Full Gratitude For Writers On Strike
Ahead of his Sep. 15 court date, where he's expected to receive the official start date for his domestic dispute trial, the Ant-Man actor was caught on-camera breaking up a fight between two high-school girls in Hollywood, Calif. Per footage obtained by TMZ, you can see the two girls tussling with one overpowering the other and offloading a handful of punches while a few other students stand around and record. That's when Majors appears, having reportedly been in the area at the In-N-Out across the street, rushing in to put space between the two and talk them down from their fight.
When TMZ caught up with the Devotion star hours later, he had little to say other than he saw the "schoolyard fight" and didn't know the girls but decided to help to stop it. When asked if he had a message for them, he said: "Stay cool. It ain't worth it."
Now while his actions would appear to be heroic on the surface, as the saying goes, "No good deed goes unpunished." That sentiment would ring true hours later on Thursday as the footage began circulating online and many began to speculate that the entire ordeal was a PR stunt:
"Jonathan Majors pr team wants me to believe that he was at a burger joint in a zoot suit when he felt a disturbance in the force and saved two innocent citizens? MAN AIGHT," wrote one user.
Said another: "Did Jonathan Majors get a SAG Waiver to film that video?" (The implication is that it was all an act, in case this wasn't clear.)
Another user said: "Idk who's Jonathan Majors' PR team these days but that was a pitiful attempt at trying to repair his public image. They could've kept that Tubi B-roll footage to themselves."
So, reader, what do you think? Was Majors just doing a good deed or was his Samaritan act staged? Let us know in the comments.