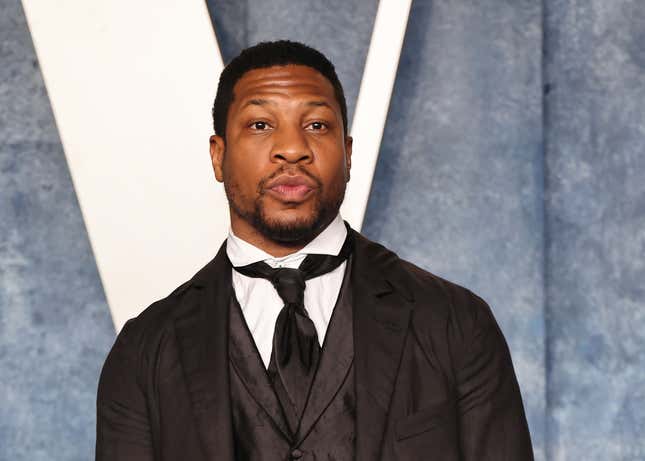 The assault case against Marvel star Jonathan Majors has made headlines since the actor was arrested in March in what the NYPD called a "domestic dispute." His lawyers have maintained his innocence throughout the process, but a new report from Rolling Stone is suggesting that this case is part of a longtime pattern of allegedly abusive behavior in his relationships, on film and television sets and at Yale School of Drama.

Devotion And Marvel Star, Jonathan Majors, Plays A Game Of My Favorite Things
During its three month investigation, the outlet spoke to more than 40 people from the Creed III star's "time in graduate school, his Hollywood career, and his romantic relationships." He was described "as being a complicated, unpredictable, and sometimes violent man, who can switch from charming to cold in a flash." Amid fear of retaliation, these sources requested anonymity from Rolling Stone, with some claiming they couldn't talk, stating, "My only response can be that I am silenced by an NDA he had me sign."
The accounts from these sources reveal a history of "alleged physical, mental, and emotional abuse that dates back a decade" beginning at Yale's David Geffen School of Drama and continuing on through his film and TV career. A claim from his upcoming movie, Magazine Dreams, alleges Majors "pushed one person while on set and physically intimidated another while screaming at them." After receiving complaints, executive producers reportedly "warned them to give Majors his space," though another source said producers only knew about one complaint and "disputed the person was physically intimidated."
"The allegations that Mr. Majors got physical with or physically intimidated anyone on any movie set are downright false," Majors' attorney, Dustin A. Pusch, wrote in a statement to Rolling Stone. "Everyone who has worked with Mr. Majors knows that he employs an immersive Method acting style, and while that can be misconstrued as rudeness at times, those who know Mr. Majors and work in the industry have attested to his dedication to his craft as well as his kindness."
The abuse allegedly extended into his romantic relationships, with more than a dozen sources telling the outlet the Lovecraft Country actor "allegedly abused two romantic partners—one physically, both of them emotionally." The accusations include that he "strangled one woman he was dating, and was mentally and emotionally abusive with her," while the other woman allegedly called their relationship "emotional torture." One source says she claimed the actor didn't get physical, but "there were moments of 'near violence' where he would 'get filled with rage.'"
"It was pervasively known that he was [a good actor], and that he also would terrorize the people that he had dated," one source said.
Rolling Stone stated that it "independently corroborated" these details with friends of the women who were "alarmed by what they witnessed."
"My experience in dealing with him and watching him in relationships with several women [is] really upsetting," says one person familiar with at least two of Majors' relationships. "As an outside observer, it made me uncomfortable."
Majors' lawyers denied the allegations about his history of abusive behavior.
"Jonathan Majors vehemently denies Rolling Stone's false allegations that he physically, verbally, or emotionally abused anyone, let alone any of his past romantic partners," Pusch, wrote in a statement. "These allegations are based entirely on hearsay because neither of the romantic partners referenced were willing to engage with Rolling Stone for the article—demonstrating their outright falsity."
In response to the investigation, Majors' lawyers provided Rolling Stone with six character witness statements from women the Devotion star previously dated or was close with. However, when the outlet followed up with these women, it received some conflicting information. "Three say they never gave Majors' team permission to release such statements. Another woman declined to share the statement credited to her by Majors' team, saying it was pre-written, not truthful, and that she had never approved of its release." (One did not respond to a request for comment.)
Haley Carter, the one woman who wanted to make her statement public, dated him from ages 13 to 18, and said, "After 20 years of knowing him, I can tell you who Jonathan is. He did not do these things," the statement said, in part. "He is exactly the opposite of what these allegations say. Jonathan is the most self-controlled, disciplined, well-mannered person I know. We all call him 'the peacekeeper.' He is not violent in any way."
These revelations come as Majors awaits the start of his assault trial on Aug. 3. He was arrested in late March on charges of assault and harassment after police were called to a Manhattan apartment where a woman, later identified as Grace Jabbari, claimed she was assaulted. She was treated at a hospital for "minor head and neck injuries." The Kang actor recently filed a cross-complaint against Jabbari, and reports surfaced that the NYPD has enough evidence to arrest her.
While Majors and his team wait for a legal outcome to the situation, his career has suffered, as he's been dropped from several high-profile projects. Marvel Studios has not commented on the case. With these past allegations becoming public, it's going to be extremely hard for him to regain the superstar status he was approaching before his arrest.
"No one is surprised that this is coming out," one source told Rolling Stone. "It always felt like it was a matter of time because his behavior never changed. He's kind of a bad dude, and now it's just catching up with him."