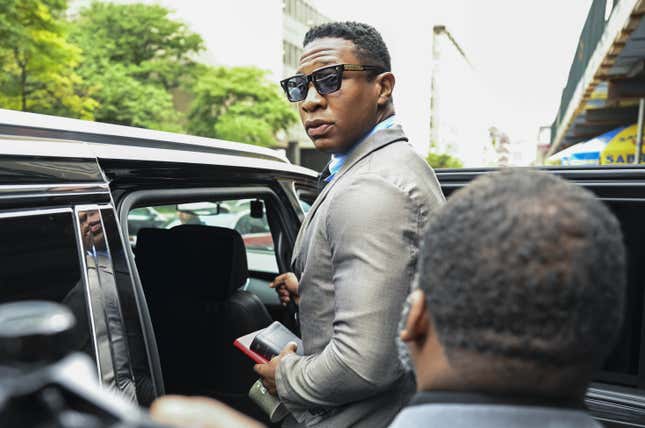 Updated on 9/9/2023 at 10a.m. PT: It seems like the domestic dispute trial for Jonathan Majors has hit yet another delay. Per Deadline, the actor is now due back in court on Sep. 15 to hopefully determine an official start date for his trial.
Grand Crew: Season 2 & The Mandalorian: Season 3 Are Our TV Picks This Week
This recent delay comes as a result of the defense lawyers needing more time to address "deficiencies" in discovery based off evidence submitted by the prosecutorial team. Majors appeared virtually and only said few words during the hearing, which reportedly lasted about five minutes. He also has the option to appear virtually on the 15th, which means we likely won't see him physically in court until his actual trial start date—whenever that may be.
See original story below.
If you were expecting the legal ball to get rolling on Thursday as it relates to Creed III star Jonathan Majors and his court appearance for his domestic dispute case, then you'll unfortunately have to wait a little bit longer.

Per Variety, Majors' trial has been delayed until September 6 citing the fact that prosecutors reportedly need more time to "obtain discovery" and Major's lawyer Priya Chaudhry alleged the the prosecutorial team has not been "timely" in turning over their evidence. This move isn't that uncommon when both sides have a lot of evidence they want to submit in order to properly defend their arguments as both sides need adequate time to prepare a defense.
In a statement following the delay, Chaudhry told press:
"For an excruciating four months, Jonathan Majors, the real victim in this shameful ordeal, has had his life, career, and reputation torn apart. Yet he remains unwavering in his determination to be absolved from this harrowing ordeal."
Doug Cohen, spokesperson for the Manhattan District Attorney's Office, later added in an email obtained by People: "We look forward to presenting the full facts and evidence at trial."
As previously reported by The Root, this delay comes amidst the bevy of twists and turns in this case—which has been ongoing seemingly since Majors' initial arrest back in March—where he was taken into custody and later release on charges of assault and harassment stemming his allege abuse of his accuser Grace Jabbari. She was later treated at a local NYC hospital for "minor head and neck injuries." The Marvel star recently filed a cross-complaint against Jabbari, and reports surfaced that the NYPD had enough evidence to arrest her, but opted not to for undisclosed reasons.
In the aftermath of that those developments, a bombshell report was published by Rolling Stone, which alleged Majors had a pattern of abuse that were present in his past romantic relationships, on film and television sets and during his time at Yale School of Drama. The Devotion star's lawyer vehemently denied any all allegations present in that report.
But from the start, the case has been mired with conflicting accounts of the night in question and a dizzying amount of details that have proved exhausting for the public (and the press for that matter) trying to keep up at each turn.
While Majors and his team await the trial, his career has suffered in the interim. In the months following the accusation, as he's been dropped from several high-profile projects, his PR company and former management company. However, while Marvel Studios has been noticeably silent and have yet to comment publicly on the ongoing investigation, the company recently released the trailer for the upcoming second season of the popular Disney+ show, Loki, which featured a clip of Majors' character He Who Remains/Kang.
Majors is due back in court on September 6. Here's hoping that this saga for justice can finally begin.