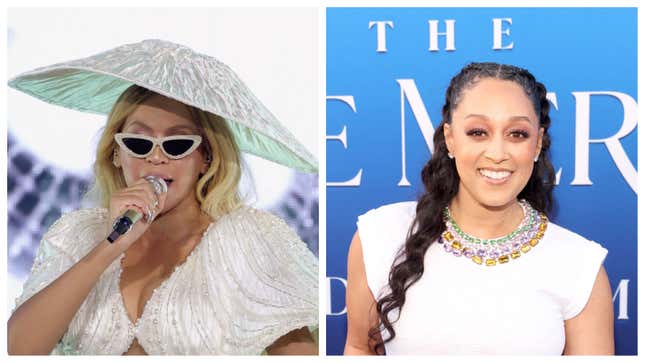 If you've been lucky enough to attend any tour stop of Beyoncé's Renaissance World Tour, then you know there's random moments throughout the performance where the icon momentarily reads the signs fans made and says hello to random people in the crowd. Well, Sister Sister and Family Reunion star Tia Mowry recently found herself on the receiving end of the latter during Bey's birthday show and it was nothing but special.
In a clip posted to Twitter on Tuesday, Bey is in the middle of singing "1+1" when she looks over to see Mowry in the side-stage seats watching her. When the actress excitedly waves, Bey waves back, laughs, mouths "I love you" and then starts to ad-lib singing—but it wasn't just any old ad-lib. No, this ad-lib was extremely personal, as it turned out to be a snippet of an old 90s song Tia and Tamera used to sing when they were in an all-girl singing group called Voices back in the day.
Now, there are two reasons why this is so iconic:
1) The fact that Bey acknowledged her mid-performance and told her she loved her alone is enough to make me want to cry, scream, and throw up in happiness.
2) The fact that Bey not only recognized her but was able to somehow reach back in her mind to sing a bit of a song from WAY BACK WHEN that was specific to her truly speaks to how deep the "Pure/Honey" singer's love and appreciation for music goes.

In a post to Instagram sent later on Tuesday, Tia shouted out the record-breaking singer, providing a bit more insight into how much that moment meant to her and background as to how the two once connected:
"The first time I met @beyonce was during her Destiny's Child days when she was on a production with my brother @tahj_mowry, and since then I have been lucky to cross paths with her throughout the years. From the beginning, Beyoncé's undeniable talent is only rivaled by her incredible kindness and generosity," she began.
She continued:
I felt so lucky to have been able to see her perform Renaissance on her birthday! You can truly see how amazing and detailed an artist she is, and how much thought and love was put into this show. The highlight of the night was when she saw me in the crowd, and she gave me a smile and a hello, and then started singing 'yeah, yeah, yeah' from when @tameramowrytwo and I were in the singing group, Voices!

I was so touched by her gesture, and I still can't believe that it truly happened! She's a true icon, who continuously inspires me with her talent, dedication, humility, and beautiful spirit 💗.
Well, congratulations Tia. How does it feel to be Beyoncé's favorite?