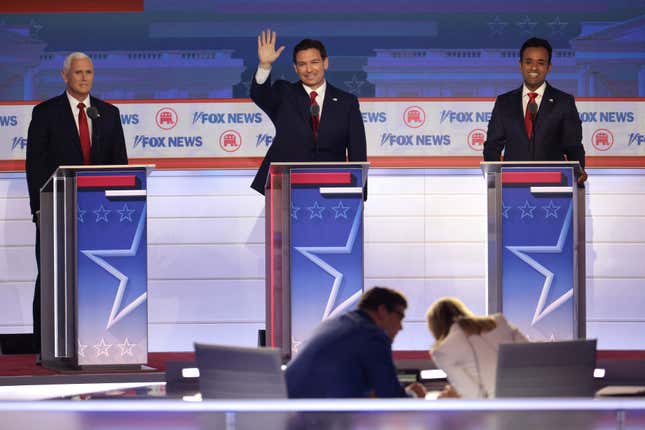 Hitler and advertisements run by a major political party in the United States are two things that should never go together. But apparently, the Republican party's chosen streaming partner didn't get that memo.
Tackling A Black Maternal Health Crisis & Embracing Reproductive Justice | The Root Institute
Several Republican National Committee advertisements promoting last night's debate were featured on pro-Hitler and Pro-Ne Nazi films hosted on Rumble. For folks who haven't heard of Rumble, it's essentially an alt-right version of YouTube.
The platform claims to be in the business of promoting "free speech" but trafficks in a mix of QAnon conspiracy theories, anti-LGBTQ bigotry, racism, and white nationalism. Rumble also happens to be the official streaming partner of the RNC for the first primary debate.
"[A]s Republican leaders, we must continue to hold Big Tech accountable for their biases and silencing of conservatives. People deserve a fair, unbiased platform and that's exactly what this partnership will provide," said RNC Chair Ronna McDaniel while announcing the decision.
According to Media Matters reporting, Rumble placed the RNC ads on The film Adolf Hitler: The Greatest Story Never Told and Europa: The Last Battle. (The advertisements were not on the page when the Root went to verify them following Media Matters reporting. However, the progressive research firm provided screenshots of the ads.)
The titles alone should convince you that the films are supportive of Hitler. But if you need more evidence, here's a description of the first film:

Since the mid-20th century, the world has only ever heard one side of an incredible story. The story of a boy from an ordinary family whose ambition it was to become an artist, but who instead became a drifter.

His destiny however was not to drift into the awaiting oblivion, but to rise to the greatest heights of power, eventually to become one of the most influential men who ever lived
Europa: The Last Battle isn't any less concerning. The description asks: Haven't you ever been curious as to what "the other side of the World War II story was?" before launching into an attack on mainstream media and alleging that everyone got World War II wrong.
It's not exactly a great look unless, of course, you're really betting on the Neo-Nazi vote pushing the Republican nominee over the finish line in 2024.
The Republican National Committee did not respond to requests for comment by the time of publication.