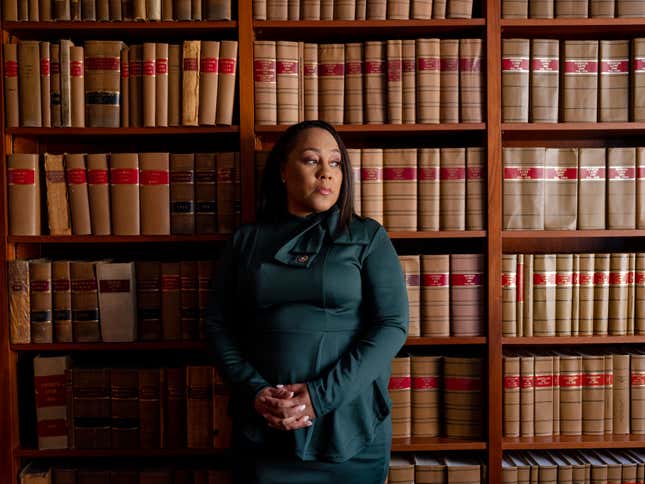 All eyes might be focused on Donald Trump's New York legal drama, but another Black District Attorney has the former President's number. Fulton County, Ga., District Attorney Fani Willis is leading an investigation into election interference in Georgia—and she appears to be closing in on him.
Trump, A Victim of "Reverse Racism"? You Gotta Be Kidding Me
Eight of Trump's allies accused of aiding him in trying to overturn the 2020 election have taken immunity deals, according to a court filing. And another likely subject of the investigation, GOP Georgia Chairman David Shafer, told DA Willis that Trump's attorneys directed his every action. The back-to-back news of Trump allies seemingly jumping ship doesn't bode well for his legal chances.
It's worth backing up a bit to explain the mess Trump's facing in Georgia since the alleged scheme involves quite a few layers. But one crucial part of the plan was to have "false electors" in Georgia pledge for Donald Trump, even though the state was won by President Joe Biden. The eight people who took immunity deals were among those "false electors."
The plan relied on finding enough of these electors in key swing states to vote against the election results and simultaneously have Vice President Mike Pence throw out the real electors' ballots. Pence obviously didn't follow through with that part of the plan. But that doesn't mean those involved are going to waltz into the sunset.
Georgia District Attorney Fani Willis has indicated that she is considering bringing the case against Trump and his alleged co-conspirators as a RICO case, typically used to prosecute organized criminal organizations. At least 20 people have been told that they are likely targets of this investigation, according to the New York Times, including Rudy Giuliani.
We still have some time before we're likely to see an indictment. Willis indicated that the indictment won't come down until at least mid-July. But if the flipping we're watching play out in the news is any indication, Willis isn't playing around.