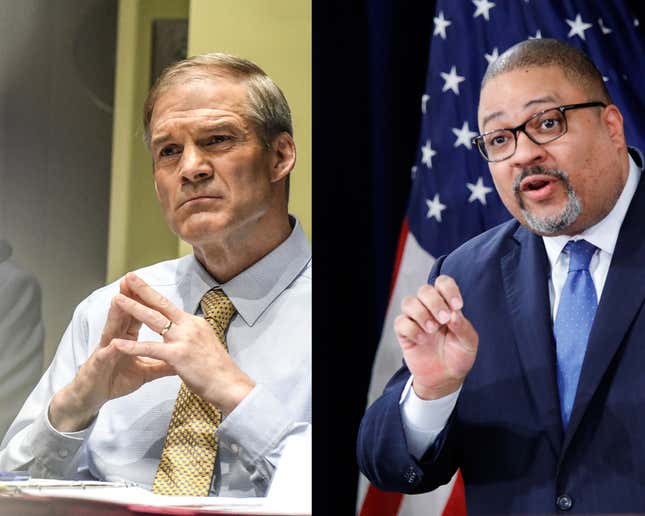 Republicans are taking their grievances with Manhattan District Attorney Alvin Bragg on the road. On Monday, House Judiciary Chair Jim Jordan (R-OH) traveled to New York City in an attempt to embarrass Bragg and call attention to the city's alleged crime wave by hosting a "field hearing."
Small Town Horror: The Story of Fred Hampton's Premeditated Murder
Unsurprisingly, Jordan droned on about Bragg's supposed support for criminals and the alleged lawlessness that has taken over New York City. The city has "lost its way when it comes to fighting crime and upholding the law," Jordan said. He even put out an advertisement where Bragg, the first Black Manhattan District Attorney, flashes in and out of frame over audio lamenting violent crime in New York City.
The Ohio Representative somehow fails to mention the cities in his state with significantly higher rates of violent crime that New York City, which has actually seen a decrease in homicides this year. But all of this is kind of a besides-the-point since the actual issue Jordan has with Bragg is significantly pettier. If you really want to understand why Republicans bussed themselves to New York City, here are the three things you need to know.
Why Is Rep. Jim Jordan Actually Mad At Alvin Bragg?
The actual cause of this beef is embarrassingly obvious, and it has everything to do with the indictment of President Donald Trump. As we all know at this point, Trump was indicted in Manhattan on 34 felony charges related to hush money payments, making him the first President ever to be indicted.
Jordan, a prominent Trump ally, started going after Bragg before the grand jury even handed down the indictment. Republicans on the House Judiciary Committee claimed that Bragg's investigation into Trump appeared "politically motivated." And Jordan didn't stop at slinging out accusations. He took the rather unprecedented step of issuing a subpoena for one of the former prosecutors on the Trump investigation, Mark Pomerantz.
Bragg didn't let Jordan's escalation slide, firing back, "These elected officials would better serve their constituents and the country, and fulfill their oath of office, by doing their jobs in Congress and not intruding on the sovereignty of the state of New York by interfering in an ongoing criminal matter in state court."
Why Is Alvin Bragg Suing Jim Jordan?
Since Republicans are now leading a random committee hearing in New York City, it probably goes without saying that things didn't end with harsh words. Last Tuesday, Bragg sued Jordan in his official capacity as Chairman of the House Judiciary Committee.
Bragg filed the lawsuit to stop Jordan from being able to subpoena former Manhattan Prosecutor Pomerantz. "Chairman Jordan and the Committee have, in essence, appointed Congress as a super grand jury that can flex its subpoena power to second guess the judgment of New York citizens and interfere with the state criminal justice process," the lawsuit says.
The main argument is that Jordan's investigation could reveal "highly sensitive and confidential information." And that Congress has absolutely zero authority to oversee state criminal investigations.
What Does This Mean For Donald Trump's Case?
It goes without saying that this has turned into one giant distraction. The debt-ceiling deadline in Congress is looming. And instead of staving off an economic crisis, Republican leadership is in New York trying to harass a local district attorney because he dared to bring charges against Trump.
The good news (depending on which side you're on) is that so far, this hasn't had any bearing on the underlying Trump case. Jordan can take as many field trips to New York as he wants, but Bragg isn't budging on the indictment, and neither is the judge in this case. So as of right now, the criminal proceedings against Trump are still full steam ahead.