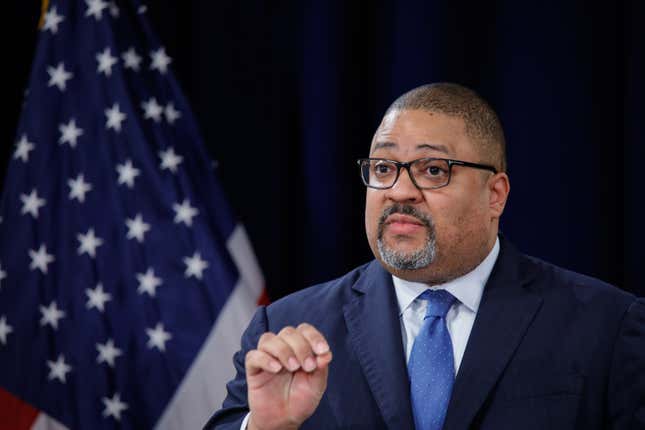 There's never a dull day in Donald Trump world. Manhattan District Attorney Alvin Bragg just filed a lawsuit against staunch Trump ally and U.S. House Judiciary Committee Chair Representative Jim Jordan (R-OH) for allegedly interfering with his prosecution of the former President.
Dr. King's March on the Ballot Boxes Is Under Threat Today
Bragg did not hold back against the Congressman. "Chairman Jordan and the Committee have, in essence, appointed Congress as a super grand jury that can flex its subpoena power to second guess the judgment of New York citizens and interfere with the state criminal justice process," the lawsuit says.
Let's back-up a second though. Unless you've been staying offline (good for you), you likely already know that a Manhattan grand jury indicted Trump on 34 felony charges, and that the former President plead not guilty. You probably also know Jordan and his Republican buddies on the House Judiciary Committee weren't happy about it, calling the decision to indict Trump, "politically motivated."
Jordan took the rather unprecedented step of issuing a subpoena for a former prosecutor Mark Pomerantz who worked on the Trump case so he could testify in front of Congress about the case.
Bragg fired back in a statement, saying "These elected officials would better serve their constituents and the country, and fulfill their oath of office, by doing their jobs in Congress and not intruding on the sovereignty of the state of New York by interfering in an ongoing criminal matter in state court."
Clearly the time for harsh statements seems to be behind the Manhattan prosecutor, who is requesting that a federal judge block the subpoena for Pomerantz. His argument is that it could expose confidential and sensitive information to the DA's office. He also points out that Congress "has no power to supervise state criminal investigations." Bragg is also requesting that the judge block any future subpoenas.
This increasingly heated match between Bragg and House Republicans doesn't seem to be cooling off any time soon. I guess we'll have to wait and see who comes out on top of this particular battle.