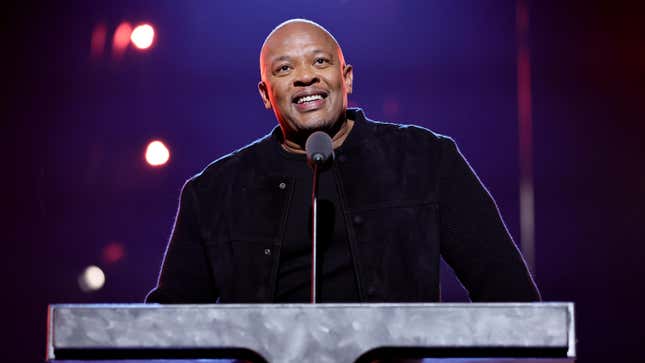 La-da-da-da-da, it looks like the next episode in Dr. Dre's musical career will see him letting go of his musical assets in a huge deal with Universal Music Group and Shamrock Holdings. I'll explain.
This Mother's Day We Revisit 2Pac's "Dear Mama" on UR FAV TRAK
According to Variety, The Chronic rapper is set to be nearing the close of a deal between the two companies, which will see him selling the rights to his musical assets to the tune of over $200 million. Once the ink dries, the agreement is expected to include "two of his solo albums and his share of N.W.A. artist royalties; his producer royalties; and the writer's share of his song catalog where he doesn't own publishing, which may include songs from his 1993 blockbuster album The Chronic."
UMG, specifically, would retain rights to the master recording of The Chronic; Dr. Dre's share of an Aftermath/Interscope joint venture with Kendrick Lamar's Top Dawg Entertainment label and releases through that deal; and other assets.
An entity acquiring rights and using Dr. Dre's music via mutually agreed upon conditions is in stark contrast to a recent unfortunate ordeal between the "Nuthin' But a 'G' Thang" rapper and Rep. Marjorie Taylor Greene. As previously reported by The Root, when Greene posted a video on Twitter of her walking to the house floor on Monday using the classic "Still D.R.E." as background music, Dre and his legal team immediately took action.
And by "took action," I mean Dre and his legal team sent a demand letter to Twitter and its new owner Elon Musk to get them to take the video down. They also subsequently sent a letter to Greene herself demanding that she cease and desist from using any of Dre's music, writing in one part: "One might expect that, as a member of Congress, you would have a passing familiarity with the laws of our county. It's possible, though, that laws governing intellectual property are a little too arcane and insufficiently populist for you to really have spent much time on."