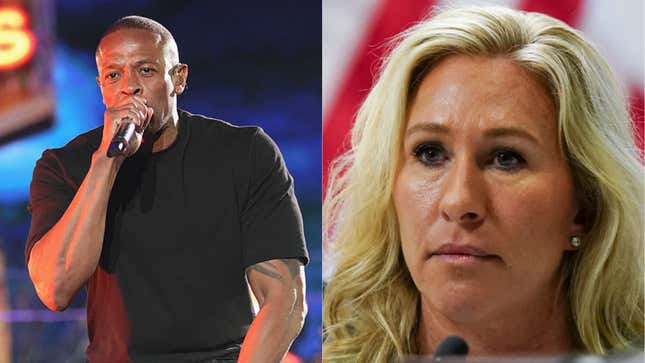 Dr. Dre is the creator of some of the most popular and iconic songs in hip-hop history. Arguably, the most popular and most-sampled song among all of his hits is "Still D.R.E." So when Rep. Marjorie Taylor Greene thought it would be a good idea to post a video on Twitter of her walking to the house floor on Monday using the classic song as background music, Dre and his legal team immediately took action.
Marjorie Taylor Green, Queen of the Karens, Wants To Literally Divide The Country
Shortly after Greene shared the video, the 2001 producer told TMZ, "I don't license my music to politicians, especially someone as divisive and hateful as this one." Clearly, Dre isn't a fan of the Georgia representative.
But, he didn't stop there. Dre's lawyer, Howard King, sent a demand letter to Twitter, asking that the social media company block the post. Not only did Elon Musk and crew block the post, but they also locked her out of her own Twitter account.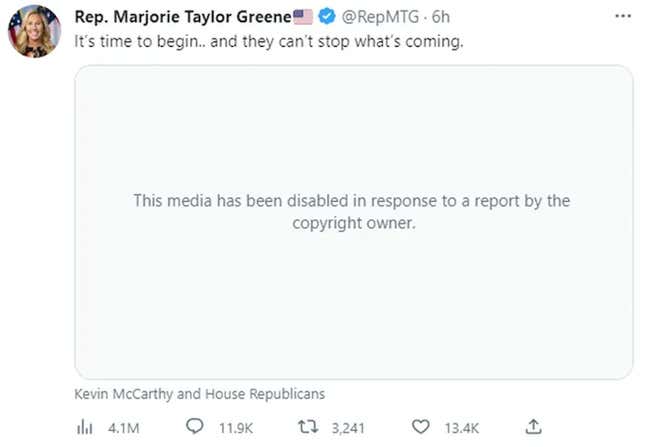 Then, in a letter sent to Greene, Howard King absolutely went in on behalf of his client writing, "One might expect that, as a member of Congress, you would have a passing familiarity with the laws of our county. It's possible, though, that laws governing intellectual property are a little too arcane and insufficiently populist for you to really have spent much time on."

The letter continued, "We're writing because we think an actual lawmaker should be making laws not breaking laws, especially those embodied in the constitution by the founding fathers."
To wrap up the letter, King requested that Greene cease and desist from using any of Dre's music and said, "please provide me with written confirmation that you have complied with these demands before January 11, 2023 by 5:00 pm EST."
Talk about dropping the mic.