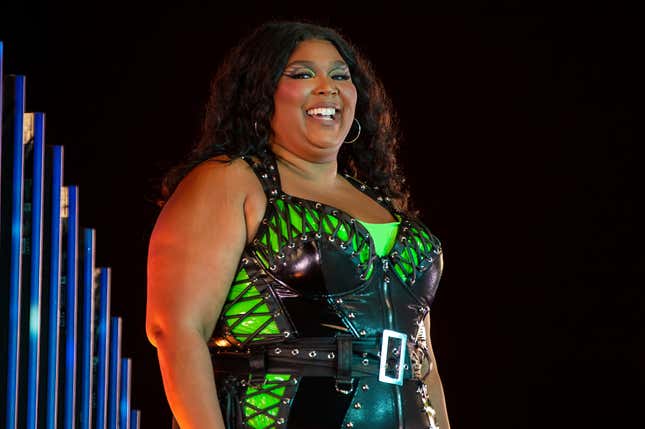 In news that can only be described as "WTF sis," Lizzo has been hit with a bombshell lawsuit where, in an ironic twist, she's being accused of body-shaming and sexual harassment.
In a copy of the lawsuit sent to The Root, the case is being brought against the "Rumors" singer, her production company Big Grrrl Big Touring, Inc. (BGBT), and Shirlene Quigley, captain of Lizzo's dance team, by three of her former dancers—namely Arianna Davis, Crystal Williams and Noelle Rodriguez. They are alleging "sexual, religious and racial harassment, disability discrimination, assault and false imprisonment, among other things."

Lizzo is a performer whose public persona has often been as much about body-positivity and rejecting body-shaming and other demeaning behavior as it has been about her music. She told Vogue in 2020, for example, that she wanted to "normalize" her curvaceous body type. The allegations—from women who performed with her—contradict a large part of what has contributed to Lizzo's reputation and popularity.
The suit says that Davis and Williams met Lizzo on the set of her Emmy-winning Prime Video series Lizzo's Watch Out for the Big Grrrls in March 2021. Rodriguez later joined as a backup dancer on the set of Lizzo's music video for "Rumors" in May of that same year. After coming onboard, the women allege they were subjected to demoralizing treatment at the hands of Quigley—who often berated the dancers with talks of her religious beliefs—and the popular singer.
More from the lawsuit:
"Ms. Quigley was not only vocal about her religious belief but took every opportunity to proselytize to any and all in her presence regardless of protestations," according to the complaint. "Ms. Quigley discovered that Ms. DAVIS was a virgin and Ms. DAVIS's virginity became a topic of extreme importance to Ms. QUIGLEY. In the months to follow, Ms. QUIGLEY would routinely bring up Ms. DAVIS's virginity in conversations with Ms. DAVIS. Ms. QUIGLEY even mentioned Ms. DAVIS's virginity in interviews she participated in and later posted to social media, broadcasting an intensely personal detail about Ms. DAVIS to the world."

Later, the complaint states, contestants were told they would be required to participate in a nude photo shoot, something that was particularly distressing to Davis. However, as it was part of the competition, Davis feared she would be sent home if she refused.

"Ms. Davis broke down in tears on set while struggling to choose between a once in a lifetime career opportunity and putting her body on display against her will," the lawsuit states. "This experience foreshadowed the sexually charged and uncomfortable environment Lizzo's employees would be forced to endure." Davis and Williams were ultimately selected for the dance team and soon began working closely with Quigley, who continued her campaign of preaching Christianity and sexuality, deriding those who engaged in premarital sex while oversharing her masturbatory habits and sex life with her husband, according to the complaint.
As far as Lizzo is concerned, the ladies detail a couple of nights during the European leg of the singer's when they were invited to nude bars and clubs in Amsterdam and Paris and were encouraged to engage with the nude performers in various sexual acts such as: "touching the nude performers, catching dildos launched from the performers' vaginas, and eating bananas protruding from the performers' vaginas."
The ladies noted that while they understood it wasn't a requirement to attend, they felt obligated to go out of fear of losing their jobs.
Additionally, after BGBT and Lizzo told the ladies that they preferred they not take on other work during their downtime, they asked to be compensated as—other performers were—at a rate of 50 percent of their weekly pay. They were instead offered 25 percent and "scolded for unacceptable and disrespectful behavior while on tour," according to the complaint.
"Plaintiffs were aghast with how little regard Lizzo showed for the bodily autonomy of her employees and those around her, especially in the presence of many people whom she employed," the suit stated.
The women's attorney Ron Zambrano added: "The stunning nature of how Lizzo and her management team treated their performers seems to go against everything Lizzo stands for publicly, while privately she weight-shames her dancers and demeans them in ways that are not only illegal but absolutely demoralizing."

Lastly, the women also allege that the dancers of color were mistreated by BGBT's management team and were often accused of being lazy, unprofessional, and having bad attitudes—descriptors they claim were never given to the non-POC dancers. Scott in particular claimed both Lizzo and choreographer Tanisha Scott made thinly-veiled comments about her alleged weight gain and commitment to the dance team.