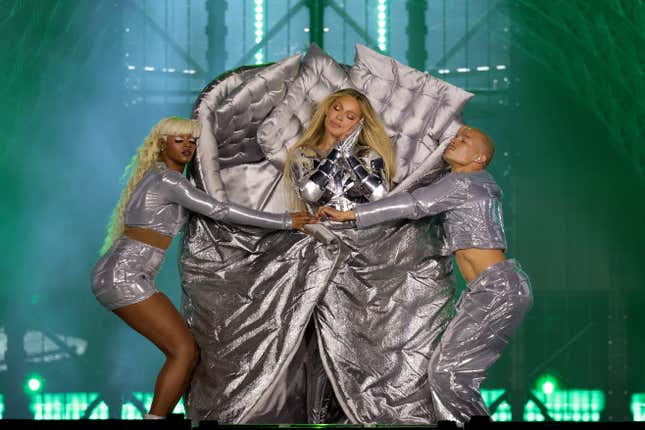 In case you needed any more proof that this summer is all about Beyoncé, the Queen just surprised fans with the announcement of her new perfume.
Music Producer & Beyoncé Collaborator, Dixson, Plays That's So Random
The fragrance, Bey's first in nearly a decade since 2014's Rise, will only be made available in the United States and Canada and will be sold exclusively on her website, beyonce.com. Although most details are still under wraps, including the name, we can tell you the fragrance was created in France and will be encased in art. Sounds fancy, right?
Pre-orders are happening now, and shipping is scheduled to begin in November. But a disclaimer on the website notes that the date may change at the company's discretion. Orders cancelled before shipments start will be eligible for a full refund. But why in the world would you want to cancel?
If you have any money left over after buying your Renaissance tour tickets, you can get a 1.7-ounce bottle of the fragrance for $160. That price point has folks on Twitter divided.
One user tweeted, "If i buy that is she going to my house and delivered it herself and perform break my soul in my livingroom?"
Another wants to remind Bey that fans are still waiting Renaissance visuals, tweeting "the visuals better come with it for that price."
But of course, there are plenty of die-hard Bey fans who are ready to give her all of their coins, no questions asked.
One fan tweeted, "I do not care what's y'all opinion about this. I'll be there buying this Reneigh Juice."
Since you can't try it before you buy, you should know that the fragrance, which was crafted and designed by Queen Bey herself, has notes of clementine and golden honey on top, rose absolute and jasmine sambac at the heart and Namibian myrrh and golden amber as a base.