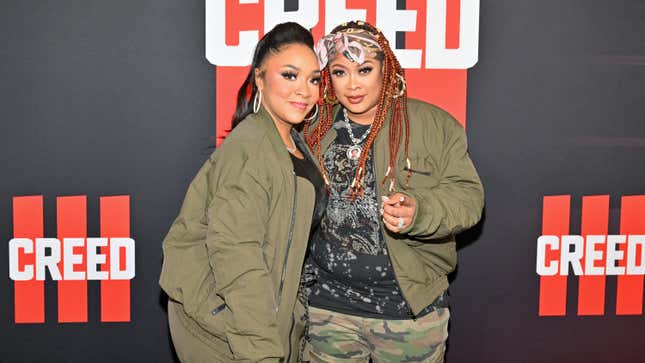 Last month, we told you how Da Brat and wife Jesseca "Judy" Harris-Dupart welcomed their first child together, a healthy baby boy. Now, we've got a first-look at the new bundle of joy!

In pictures posted to Instagram, Da Brat revealed the child, named True Legend, and gave an update on how the family's been doing in the month following his birth.
"I cry every day. I just look at him and boo-hoo, because I'm so grateful," Da Brat, who became a first time mother with True, told People. "I'm 49, I'm high-risk, I have high blood pressure. So many women so much younger than me want kids and can't have them, and I had a successful pregnancy. It's just an honor. He's such a blessing."
As previousy reported by The Root, Brat's road to conceiving True wasn't easy. She and Dupart decided to go the IVF route, but before they could go down that path, Brat had to undergo surgery to remove fibroids and polyps before her embryo transfer procedure. She also suffered a heartbreaking miscarriage earlier in the treatment process.
As painful as that was, Brat told the magazine that the actual birthing process was fairly easy, revealing that she had the child through a scheduled cesarean section and had "no contractions." However, it wasn't 100% pain-free, as she experienced pain while receiving the epidural.
"I never want to do that again," she joked. "But for him, it was worth it."
Though life looks a little different now with baby bottles and late-night diaper changes occupying their time, both Brat and Dupart are thankful for their new son and look forward to building the rest of their family and life together.

"Who would ever think this? Da Brat-a-tat-tat from 1994! I'm with a beautiful, successful woman who completes me and inspires me to be better," Brat said. "I'm elated to be a mother. I never thought I would be, and I wouldn't change it for the world. I never need another thing in life."