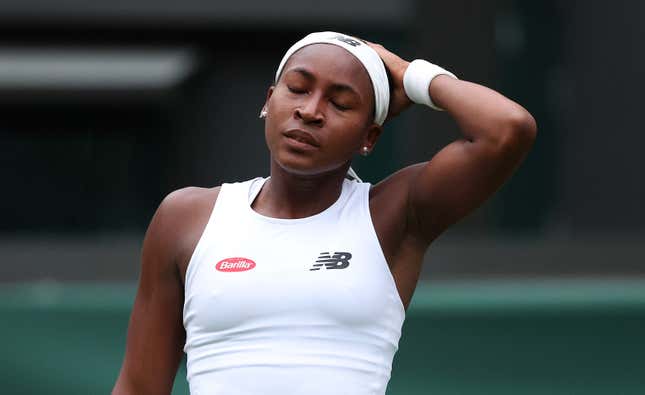 When the 2023 Wimbledon draw was released and we saw the opening round match ups for Venus Williams and Coco Gauff, we knew they had tough challenges ahead of them. Now, it appears our worries were valid, as both women have been eliminated from the tournament.

How Erykah Badu's "Tyrone" Became An Anthem For Black Women
After receiving a wild card, Venus took Center Court for her 24th Wimbledon appearance, ready to battle Ukraine's Elina Svitolina, who also received a wild card into the competition. Svitolina, a 2019 Wimbledon semi-finalist, is an extremely talented player who recently returned from having a baby. Tennis fans expected this to be a very competitive match, as both women have looked impressive in their grass court warm ups. Unfortunately, things took an unexpected turn very early in the first set when Venus took a hard fall as she approached the net, in the process seemingly hurting her knee. After that she was never the same and clearly had trouble moving around the court. Williams fought through it like the five-time Wimbledon champion that she is, but in the end Svitolina won 6-4, 6-3.
"It's always a pleasure to play against Venus," Svitolina said during her post-match on-court interview. "Played her so many times, I think in almost every Slam. It was a really special moment today to play here."
The young woman who announced herself to the tennis world in 2019 with a victory over Venus didn't fare much better on Monday. No. 7 seed Gauff lost a hard fought three set match to 2020 Australian Open champion Sofia Kenin 6-4, 4-6, 6-2. After some disappointing results led to a low ranking, Kenin had to go through qualifying to get into the main draw at Wimbledon, but Gauff and her fans still expected this to be a very difficult opening round match. Honestly, Kenin just outplayed Coco and had the stronger game. The 19-year-old phenom looked like she was on the road to a comeback in the second set, finding her serve and power, but Kenin was able to break Gauff's serve in the third set and sent the 2022 French Open finalist home.
Tennis analysts and fans all agree that Coco has all the tools to make a run to the top, but right now it looks like she needs to make adjustments in her game to get to the next level. She's still young and has time to win her first Grand Slam, so perhaps she should take some time away from the court and rest up for a grueling hard court season. Plus, she'll probably still be in the women's doubles draw with her partner, Jessica Pegula.