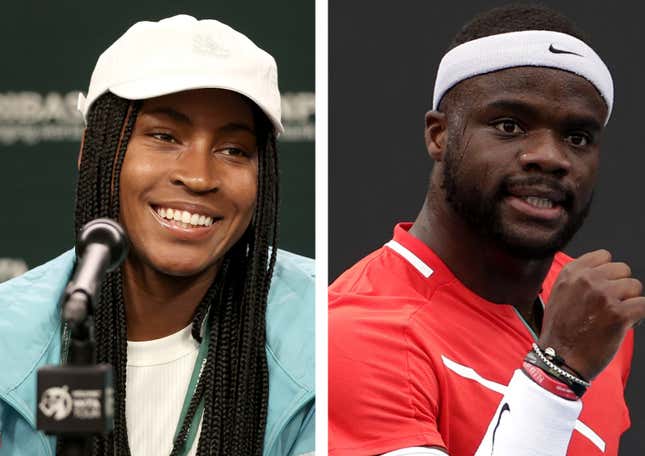 The Championships at Wimbledon are set to kick off on July 3 and there are several Black players looking to make a big run. After taking extended time away from the court, five-time Wimbledon champion Venus Williams is returning to the All England Lawn Tennis Club with a wild card entry. She opens her tournament against Ukrainian star Elina Svitolina, who recently returned from having a baby and has also received a wild card.

Cedric the Entertainer Shares Details Of His First Crime Novel & Tackles Our Random Rapid Fire Questions
Coco Gauff and Frances Tiafoe, who are both among the top ten ranked players in the world, are two of the competitors everyone is talking about. While speaking to the press ahead of the event, tennis legends Chris Evert and John McEnroe discussed what it will take for Gauff and Tiafoe to be successful on Wimbledon's tricky grass courts.
For No. 10 seed Frances, who begins the tournament against Yibing Wu, McEnroe says it comes down to his volleying and net play. He also thinks Tiafoe's athleticism "would help him on the grass." Evert is impressed with Frances' mental game, praising his commitment to thinking big.
"What I love about Tiafoe is what he was saying at the US Open. Beating Nadal, having these big wins, there is a much bigger picture for him. That was to be a role model to kids, to the Black community. He sees a bigger picture for himself. The fact that he was so upset, when I watched that match, he was so upset when he lost to [Carlos] Alcaraz, he was in tears," Evert told The Root. "A lot of players, beating Nadal, continuing to win, getting to the semis, would have been satisfied with that. But it really affected him. That showed me that he just wants to keep going further and further, and he has bigger dreams and bigger ideas. That motivation is going to help him to win. I have a lot of respect for him. I have high hopes that he will one day win a slam."
Gauff has had an up and down grass court season so far, but she's picked up momentum with impressive wins in the final week before Wimbledon. She's seeded No. 7 and plays American qualifier Sofia Kenin in the first round. For her to have a chance at making it to the later rounds Evert believes that she needs to focus on her forehand. She suggested that Coco take notes from world No. 1 Iga Iga Świątek.
"The only trigger point for her will be the forehand. Everybody talks about it. It's probably in her head by now. On a fast surface like grass, you've got to hit the ball in front of you and you've got to accelerate. She has a tendency to decelerate at times when she's nervous. She has a tendency to hit off the back foot," Evert said. "If she can get that forehand going, like Iga, very similar grips, but Iga shortens her swings and accelerates better. If she can get her forehand to be a little bit more like Iga's, I think she'll have the complete game. She's going to win a Grand Slam. I mean, she's so young still, it's going to happen for her eventually. Who knows, it could happen this Wimbledon."
The first round also features Alycia Parks, currently ranked No. 47 in the world, going up against No. 87 ranked Anna-Lena Friedsam; 2017 US Open champion Sloane Stephens playing No. 72 ranked Rebecca Peterson; No. 25 seed Madison Keys, who is coming off of a finals appearance at warm up tournament Eastbourne International, starting off against wild card Sonay Kartal; and No. 77 ranked Chris Eubanks plays No. 96 ranked Thiago Monteiro.
All of these players have a tough road ahead of them, as seven-time champion Novak Djokovic and world No. 1 Carlos Alcaraz are the favorites on the men's side, while Świątek and 2023 Australian Open champion Aryna Sabalenka are the ones to beat in the women's draw.
The Championships at Wimbledon airs live on ESPN Networks July 3-16.