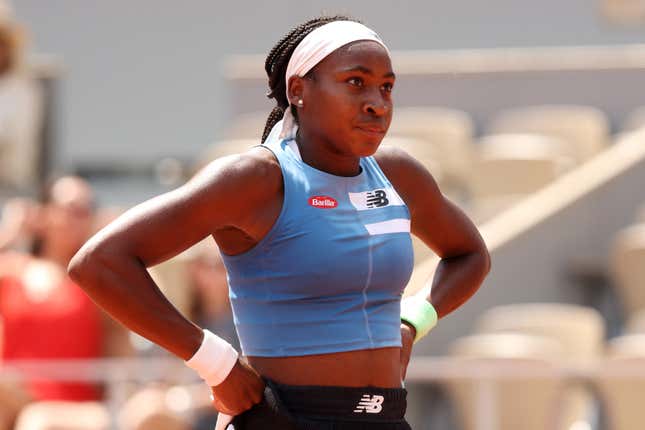 Updated 6/7/2023 at 10:55 a.m. ET 

Unfortunately, tennis star Coco Gauff will have to wait a little longer to win her first Grand Slam. The young American was defeated 6-4, 6-2 by world No. 1 Iga Swiatek in the quarter-finals of the 2023 French Open. Gauff is now 0-7 against Swiatek, and still hasn't even captured a set from the Polish star. Despite the outcome, Coco did show improvement, pushing Swiatek to her limits in the first set by using the windy conditions to her advantage and changing up her game.
Small Town Horror Story: The Mississippi Burning of Three Anti-Segregationists
"It wasn't easy, especially the first set was really tight," Swiatek said in her post-match on-court interview. "Coco was really using the conditions, so I'm pretty happy that I was able to work on it and win this match."
Considering the way Iga has been dominating her opponents, it was going to be a big ask for the 19-year-old to beat her. Coco will now focus on the women's doubles, where she and partner Jessica Pegula have made it to the semi-finals. After that she turns her attention to the European grass court season as she prepares for the next major tournament, The Championships at Wimbledon, which starts Monday, July 3.
See original story below:
Amidst a lot of talk about the future of tennis and who will take over as the new face of the sport, Coco Gauff has become a standout as the athlete everyone is watching. The 19-year-old star made it to the 2022 French Open final, before she lost to world No. 1 Iga Świątek. Now, she's set to get a rematch in the 2023 French Open quarter-finals. Coco has looked really strong in this year's tournament. Though she's lost a couple sets along the way, she's kept her cool and showed a spectacular maturity in her game. She attributes her positive mindset to being in Paris.

"I just like walking around here," Gauff told ESPN. "I mind my business. I love walking around the city, I love people watching and the fashion is really cool here."
Gauff has been open about how much losing last year hurt. But even though the media wants to talk about it non-stop, she's trying to stay focused on this year's competition. After her 3-6, 6-1, 6-2 first-round win over Rebeka Masarova, she was asked about coming back after losing the first set, to which she noted she was in a "bleep last year's final, and bleep the first set" mental space.
Considering that she's also made the semi-finals in women's doubles, Coco's performance here has been particularly impressive. Following a split with her coach earlier in the year, she tapped Patrick Mouratoglou, Serena Williams' former coach, to help her with her clay court game. If you're not a tennis fan, clay is a very specialized surface that requires specific adjustments to how players hit the ball and approach the game. For most tennis players, they either love it or they don't. Though she's still relatively early in her career, Gauff seems to have learned how to get the best out of her clay court game.
"This week, in the last couple matches, my forehand has, I think, improved a lot, and I think it's gotten me to win a lot of points," she said. "I think [in] the last couple of matches that I have just become more and more comfortable being aggressive on it. But I think really it's more so something that I just have to continue to improve. I'll probably work on it more during the offseason, but right now I'm happy where my forehand is at."
As for her rematch with Świątek, Coco is keeping that "bleep last year's final" energy going in. She also recognizes that if she wants to be a Grand Slam champion, she will have to go through Iga, who has crushed her opponents. She beat Wang Xinyu 6-0, 6-0 in the third round and got a walkover when her fourth round opponent retired at 5-1 in the first set. Świątek has been on an unstoppable roll lately, so this will be Gauff's biggest challenge to date.
"Since last year I've been wanting to play her here at this tournament," Gauff said after her fourth-round win. "I'm the type of mentality that if you want to be the best, you have to beat the best. If you want to improve, you have to play the best. I think it would be almost cowardly to say that I want to not face the noise and not face the challenge, but I think that I'm up for it. I have improved a lot since last year, and she has too."
Coco Gauff plays Iga Świątek in the quarter-finals of the 2023 French Open on Wednesday, June 7 around 6:30 a.m. ET/3:30 a.m. PT on Tennis Channel.