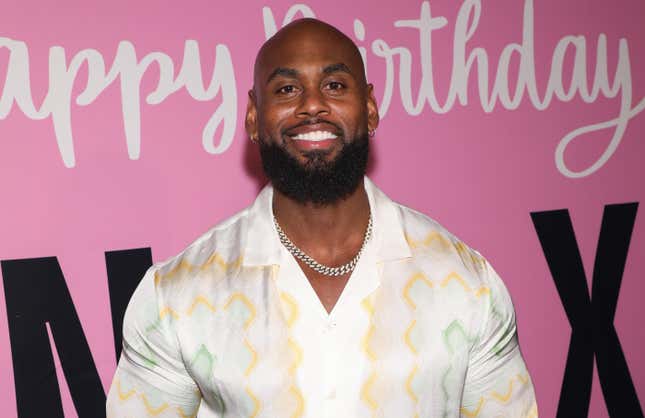 If you've ever wondered just how Creed III director and star Michael B. Jordan stays looking better and better with each film, or how his fellow costar, Jonathan Majors, got hella ripped for the record-breaking film, look no further than celebrity trainer and "body transformation specialist" Corey Calliet.
Devotion And Marvel Star, Jonathan Majors, Plays A Game Of My Favorite Things
The Louisiana native first connected with Jordan back in 2014, while on the set of Fantastic Four. Calliet would eventually take the leap out to Los Angeles to whip Jordan in shape for the first installment of the Creed franchise, which was released the following year. Calliet's transformation of Jordan would prove beneficial when he later landed a role as a celebrity trainer on E!'s popular show Revenge Body with Khloe Kardashian, where his physical and mental training garnered international attention.
But it was his consistent, physical, upping of the ante for the Fruitvale Station star, and their brotherhood, that would make Calliet's work stand out amongst the rest and cement his status as the go-to trainer in Hollywood.
"We created something that was different," Calliet told The Root. "I felt like [with] what I can do and who I was, I was more than just a trainer. I was more than just somebody who's gonna tell you how to exercise. I believe I impacted him on another level where I wanted the world to see that it was possible to form a brotherhood, to grow, and to be something amazing like it is now."
When it came to turning both Jordan's and Majors' physiques into the thirst-inducing bodies that they are in Creed III, Calliet shared how he prepares for the task, examining the needs of the characters, script and storyline in order to sculpt and shape each actor. He also divulged the difference he found this time around between training the Ant-Man and the Black Panther villains.
"Jonathan came in in more shape than Mike did a long time ago," Calliet began. "But Jonathan had that dog mentality, which is kind of the same with me. Michael had it at the beginning of our training because it was new to him and he wanted it so badly. But as time went on, we were able to do it but his load got bigger."
He continued, "With Jonathan, the first time we trained, I could've told Jonathan, 'I need you to bear crawl 500 meters, then sprint and bear crawl right back,' and he would've done it. And Jonathan just had a physique—it's genetics. I knew what I could do with that and how I could make it look crazy and I just went for it and I did it."
Speaking about molding Jordan's physique, Calliet added: "He has to look better than the last time. He's gotta beat the last body. And then I've got to beat everybody else. Nobody can have nobody else on TV that looks better than my guy. They just can't, that ain't happening. I have a reputation and I'm very cocky about that."
But before you dive headfirst into RDLs and Russian twists, Calliet explained that the number one way to ensure your own physical transformation is long-lasting is by changing your mindset first. By doing so, not only will you reap external rewards through a healthier physique, but you'll also have the mental fortitude to push forward, overcome and conquer anything else that you want to do.
"It's not just about the physical transformation because the physical transformation you can lose," he said. "The mental aspect of the transformation—where you have to change your mind, change your way of thinking—that's what's gonna keep the transformation living long and well. The time that you put all that work into the gym, the days, the consistency, doing it over and over again, putting your body through that every day, the amount of pain and agony to get your body where it needs to be at, that's building a strong mental."
If you're ready to get in Creed shape, Calliet is making his expertise available through his all-new fitness app ACHV Fitness, where you can join other folks who are ready to get a grip on their fitness goals. Or if you'd rather have some non-virtual training, be sure to keep an eye out for his new ACHV Fitness gym opening up this October in Inglewood, Calif. But above all else, be prepared to stick with whatever your game plan is so you can achieve the result you want.
"If you don't do the work on yourself first, the transformation will never happen," Calliet concluded. "You think about people who always want to start and start and stop, it's because they're not mentally committed to doing the work inside first. You have to make a decision first in your mind to say, 'You know what? I want to change something about myself starting today.' And if you can do that, if you can make that happen, then your life can change."
Creed III is in theaters everywhere now.