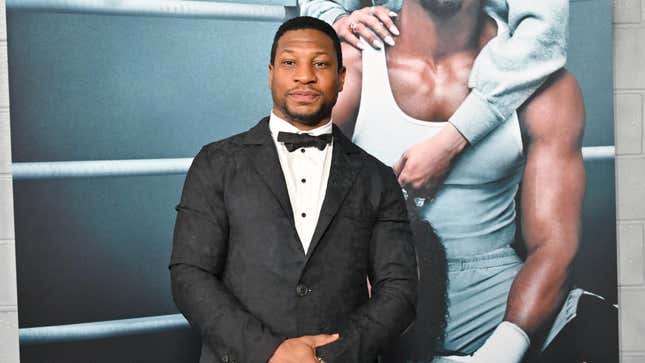 In Michael B. Jordan's directorial debut, Creed III, Jonathan Majors packs a punch as Damian "Dame" Anderson, a long-forgotten childhood friend of Adonis Creed (Jordan) who's fresh out of jail and on a quest to obtain the life he thinks he deserves.
The Little Mermaid Can Talk To A Crab But She Can't Be Black? Get Out Of Here!
During a recent press conference ahead of the film's release, Majors spoke on his process of bringing Dame to life, explaining how he gathered inspiration from a friend of producer and Creed I director Ryan Coogler and his own formerly incarcerated step-father.
"My stepdad was locked up 15 years before he got with my mom and then raised me up," Majors began. "The ankle monitor situation, the PO. You know, there's a box at the house. Like, I was the kid that was trying to make sure Dad got home on time before the parole officer got to the crib. And I watched it. I watched that happen. My stepdad also, yeah, Joe, I'm gonna say his name, he tried out for the Dallas Cowboys. I'm from Dallas. And [he] almost made it to the Cowboys. He was in the second round, right? I watched that aspiration. I watched that hustle. I watched that dream that he had. There's a big part about that. That big, hard shell. You know, that young boy in it that had the aspirations to be more, to be free."
He later went on to explain how studied the previous Creed films to better understand Jordan's Adonis and how to properly serve as a true antagonist:
"It was very clear to me that the only thing that was really important was who Adonis was in this third installment and how to antagonize this character. How to help this character continue his hero's journey. And so I studied Adonis, and I studied Mike. And I saw everything. I saw his values.

"And us being brothers. You know, being close friends. How our values had to be similar, and how we went after it had to be different. And so, the film was our relational for Dame. Dame lives and dies on his relationship with Adonis Creed. Everything else is set decoration. You know, it's all about him. And so that was the most, thrill, I think, inspiration. And that, I met every day. You know, that, I got to meet every day."
Creed III, starring Majors, Jordan, Tessa Thompson, Mila Davis-Kent, Phylicia Rashad and Wood Harris, is in theaters now.