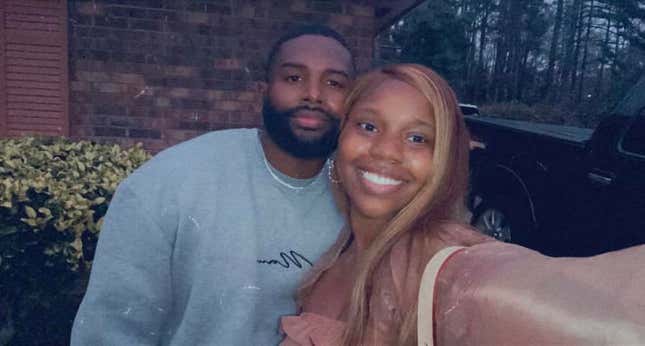 The internet is still dragging Carlee Russell over her bizarre claim of being that abducted after calling 911 to report a missing toddler. Her parents initially spoke to NBC's TODAY asking for the trolls to leave their daughter alone. Now, her boyfriend has something to say to the cyberbullies.
"The only thing I can say is, I want everyone to stop bullying her. I know what it seems like what she did. Just stop bullying on social media," Thomar Latrell Simmons told The New York Post.
What Happened?
"What it seems like she did" was lie about being abducted July 13, after pulling over on the side of Interstate 459 in Hoover, Ala. Authorities say she called 911 to report a male toddler walking along the side of the highway but was snatched by a man after stepping out of her vehicle. Russell told detectives she was held captive for 48 hours before escaping her abductors and returning home by foot the evening of July 16. The police say they were unable to confirm the details about her alleged abduction based on the information Russell gave them.
"I do think it's highly unusual that the day someone gets kidnapped, seven or eight hours before that they were searching the movie Taken about an abduction. I find that very strange," said Hoover Police Chief Nick Derzis in a press conference.
If Hoover thinks her story is strange, the public has come to their own conclusion that she lied based on the internet searches police say she made prior to her disappearance related to Amber Alerts and how to steal money from a register. Oh, Twitter and TikTok had a field day with her filming skits to recreate their own versions of what happened July 13th and joking that the toddler she saw was actually Marlon Wayans from "Little Man."


"Think about her mental health. She doesn't deserve that. She doesn't. Nobody deserves to be cyberbullied," Simmons told The Post.

Russell's Social Media
She's not the only one being trolled. Simmons' Instagram comments have been shut off after thousands of people flooded his comments to drag him for Russell's alleged lie.
The picture he posted the day Russell returned home with a long message attached, thanking God and condemning the allegations that he kidnapped her, has since been deleted. That along with a series of post-breakup-ish tweets from Russell's Twitter have led people to believe her disappearance was a calculated scheme to get back at Lamar.
Simmon has not said publicly that the two have broken up. In regards to the alleged abduction, the Hoover Police Department said there is no abductor at large or current threat to public safety that they know of.