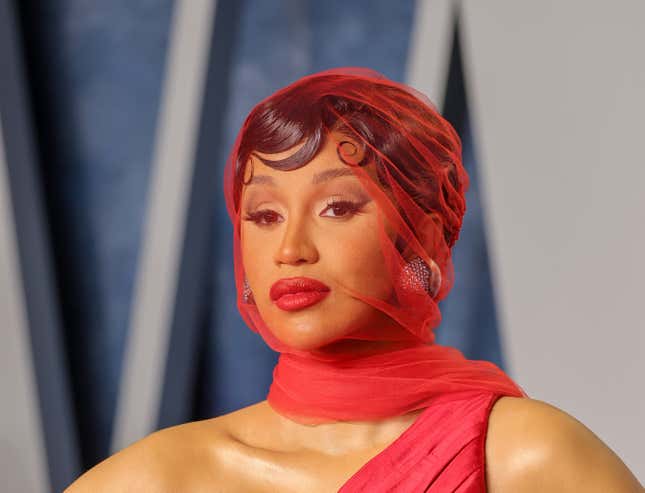 After exploding on the scene in 2018 with Invasion of Privacy, Cardi B has released several fan favorite tracks, but fans are still waiting for her elusive second studio album. Since she conquered the music world with "Bodak Yellow," Cardi's been busy raising a family, so you can excuse the Grammy winner for not making a new album her priority. However, it appears that she's finally ready to focus on her follow-up. In a cover story with Vogue México y Latinoamérica, the "Bartier Cardi" artist revealed that she's going to pause collabs so she can completely focus on her next album.

The Root Staff Reacts To The 2023 Grammy Awards Big Wins, Best Looks, & More
"I'm not going to release any more collaborations, I'm going to release my next solo single," she said. "Now I'm working on the cover and ideas for the next album because it's definitely coming."
Of course, just because she hasn't dropped a new album, it doesn't mean she hasn't stayed at the top of the charts. She and Megan Thee Stallion became the talk of the industry with "WAP," and one listen of "Up" will have it stuck in your head for days. And just recently, she teamed up with her husband, Offset, for "Jealousy." The popularity of these singles have had her die hard fans desperate for a new album.
"Everyone always tells me I should release the record now, they did it when I released 'WAP' and when I released 'Up,' but I always let them know that I'm not going to wait long to release it after all these singles," Cardi said. "So stay tuned because it's going to come out very soon."
In addition to growing her family and releasing new music, she's had memorable appearances in the films Hustlers and F9. With her personality, style and charisma, it makes sense that Hollywood would be the next stop on her world domination tour.
"I also have plans in the film world. I actually have plans to do everything I can: fashion, branding, I want to do everything, honey," she said.
For Cardi's fans, this is a good news, bad news situation. She's teased them with the "coming soon" quote before. Plus, they've been waiting for this album for so long, it's going to be difficult to live up to the expectations. But let's be honest, Cardi's made a habit of exceeding expectations and silencing the haters.