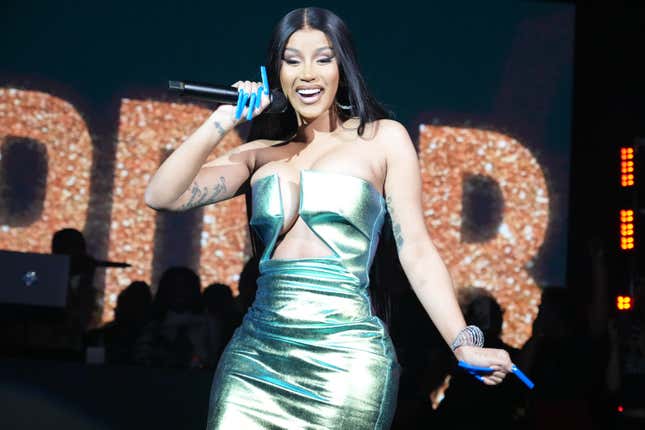 Come on, Cardi B, you're killing me!

As if I didn't have enough reasons to love her before, come to find out, the GRAMMY award-winning rapper who always slays the red carpet is a bomb-ass mom too?
Making Love Songs: The Story Behind Dionne Warwick's "I Say A Little Prayer"
In a May 23 tweet the "Bodak Yellow" rapper captioned, "Kulture school lunch be everything," Cardi showed off her lunch-making skills with photos of what her 4-year-old daughter Kulture takes to school. And before you ask, we're not talking about PB&J here. Mama packs a perfectly balanced assortment of carbs, veggies and protein. I'm talking about chicken nuggets, pasta, broccoli, corn on the freaking cob, and fresh strawberries.
The tweet, which definitely stopped me in my tracks, got thousands of replies from Twitter users who were equally impressed with the spread Cardi sets out for her little girl, including those hoping she'd send a little love their way.
One person tweeted:
"Wait I want a plate."
Another tweeted: 
"Not kulture having all of walmart to take to school!"
And when one Twitter user asked, "If this is school lunch, what does her breakfast and supper look like?" Cardi doubled down, responding " Lol …..like this," while showing off an equally impressive breakfast of pancakes and fresh fruit and a plate of chicken and fresh veggies for dinner.
And the responses were equally hilarious.
Like this one:
"Girl I'm your child too muva? Where's my breakfast"
Or this one:
"Me fixing myself a plate bcccc Kulture ain't eating all that."
And while there were some haters who criticized the food and even accused her of not packing the food herself, I was pleasantly surprised to see that the response to Cardi's tweets were mostly positive. Whether she packed the food herself or ordered it delivered straight to her door, you've gotta give it up to her for making sure her kids eat as healthy as possible.
So on behalf of all of the working moms out there just trying to make sure their kids get at least one of the four food groups into their lunch box each day, I say, Cardi B, we see you.