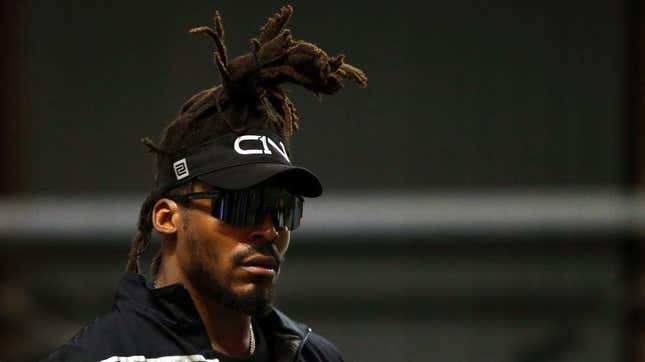 Weeks ago, I attempted to convince readers that Cam Newton deserved another shot in the NFL. Not as a starter, but as a backup.
How Law Roach Transformed Zendaya Into The Fashion It Girl
The day before his Pro Day workout at Auburn University, the former Heisman winner infamously stated, "Ain't 32 motherfuckers better than me." This was in reference to the number of starting QBs in the NFL. Despite his solid showing at Auburn's Pro Day, it wasn't enough to overshadow his poor play in the pros the last couple of years.
Now, after not receiving calls from NFL teams, Cam has accepted his fate as a backup QB and shared a list of the signal callers he's willing to play behind in a YouTube video titled, "Backup…"
The quarterbacks he listed are Deshaun Watson, Lamar Jackson, Justin Fields, Tua Tagovailoa, Malik Willis, C.J. Stroud, Bryce Young, Anthony Richardson, Jalen Hurts, Aaron Rodgers, Josh Allen and Sam Howell.
After naming those 12 QBs, Newton said, "Some of those guys may already have penciled in backups that the franchise is probably okay with, and that's fine. I'm just voicing my opinion and I'm just getting the narrative out."
Ignoring the list of players he named, I'm glad that Cam finally came to terms with his football reality. He's not the same "Superman" player he was in 2015, and that's okay. It's time that he transitions into another role.
Why did he pick those 12 QBs?
Although it seems like he ignored my suggestion to be a backup for Patrick Mahomes, I love the QBs he did choose. (Outside of Deshaun Watson, I don't want him to risk being contaminated with stupidity.) Not only do a lot of the players on his list have a similar playstyle, in terms of being a running QB, but they're also young and Black.
Outside of his sexist "routes" comment, Newton has mostly stayed out of controversy during his time in the NFL. I think Newton has a number of things he can offer to a team outside of his ability on the field.
During his YouTube video, he shared that he's able and willing to be a helpful presence in the locker room and offer any advice to any young QB who asks for it. That can be helpful to a few players on his list who haven't found they're footing in the league, especially third-year QB Justin Fields, second-year QB Malik Willis, and soon-to-be-rookies C.J. Stroud. Bryce Young and Anthony Richardson.
The other Black QBs on this list, Lamar Jackson and Jalen Hurts, have already found their footing in the NFL, but they would make sense for Newton in terms of his playstyle. They're athletic running QBs and if either of them were to ever go down with an injury, Newton can offer a similar skillset.
Although it's unclear if one of these teams will even sign Newton, I hope he's at least given a chance.