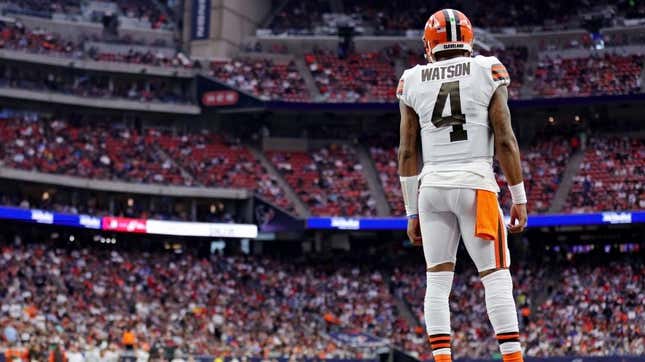 Nearly a year and a half ago, when Ashley Solis, a massage therapist, filed the first claim against Deshaun Watson in March 2021, part of me thought he would never return to the field, and rightfully so. Now, more than two dozen civil lawsuits later, I can't believe I ever thought he wouldn't.
We live in a world of professional sports, where almost anything goes if it's all in an effort to win. That's what the Cleveland Browns did when they essentially throughout their moral compass and decided to sign Watson to a five-year, fully guaranteed $230 million contract.
As I previously wrote about in The Root, "for as long as Watson is playing for the Browns, I'll be cheering for their downfall." I stand by that statement, but I fear that NFL fans across the country will continue to care less and less about the claims that were made against Watson and more about his play on the field.
According to Yahoo! Sports, Sunday's game between the Browns and the Houston Texans was a sign that fan angst and outrage are waning, which is a little disappointing considering some of Watson's accusers said they would be present at his first game back.
More from Yahoo! Sports:
As a roughly half-capacity crowd filed in, there were no protests and virtually no overt signs of outrage at the Browns quarterback. This despite Watson's suspension being tied to a multitude of women — most from Houston — filing 26 civil lawsuits against the quarterback that alleged sexual misconduct or assault. Two of those civil lawsuits still remain.
When Watson was asked postgame if he felt any remorse for his actions in his first game back as an NFL player, Watson said he was told by his attorneys to not answer questions about his 11-game suspension or the pending lawsuits, according to the Associated Press.
So how should sports fans handle their feelings of Watson moving forward, especially the ones that actually care about the women who made accusations towards the Pro-Bowl quarterback?
One Cleveland Browns fan told the Associated Press, "I'm cheering for the jersey and the team but it's hard to accept him as my quarterback."
I know the legal system says, "innocent until proven guilty." But, why are the women considered "liars unless guilt is proven?" It's just hard for me to believe that all these women are telling lies about the things they experienced with Watson. Despite popular belief, coming out as a victim of sexual assault and/or harassment is hard. Many already think you're lying and nobody will believe you unless the court says so. But, it's just hard for me to accept that all 26 women are lying about Watson.
I know during his career, it's going to be difficult for fans to remember the claims that all of the women made towards him, especially if he turns out to be the same football player that he was two seasons ago. But, I'm scared that in Watson's first game back, where he even didn't play that well, a majority of sports fans have already pushed aside the serious claims that were made against him and are back to watching football as if the last year and a half didn't happen.