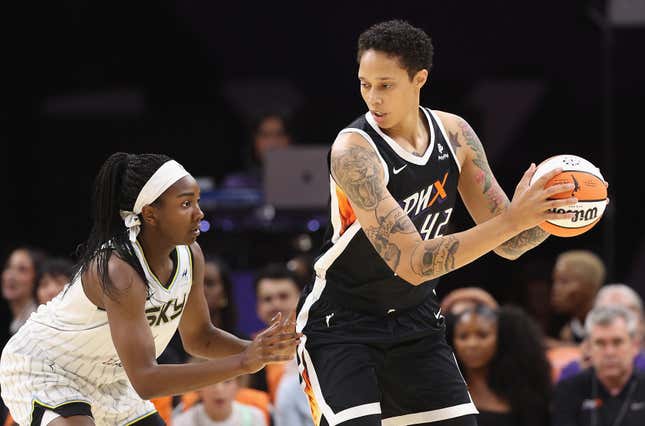 We always knew Brittney Griner's transition back into the WNBA wouldn't be easy. However, we did assume the league would do its best to protect her and her Phoenix Mercury teammates as she traveled across the country playing professional basketball. Unfortunately, that wasn't the case on Saturday at Dallas-Fort Worth International Airport, as the center and other Mercury players were accosted by a conservative social media personality reportedly from The Blaze. In a tweet about the incident, Mercury forward Brianna Turner wrote, "Player safety while traveling should be at the forefront. People following with cameras saying wild remarks is never acceptable. Excessive harassment. Our team nervously huddled in a corner unsure how to move about. We demand better."

White Men Can't Jump Stars Teyana Taylor & Sinqua Walls Play "My Favorite Things"
In media interviews before Sunday's game against the Indiana Fever, Phoenix's head coach Vanessa Nygaard said, that the team "will be making adjustments that maybe should have happened before," Nygaard didn't have any details about what adjustments the organization would be making, saying that travel and security issues aren't something she's consulted about.
Before the season started the league noted that Griner would be using charter flights for travel, as her 10-month wrongful detainment in Russia and subsequent release in a prisoner exchange has led to security concerns for the two-time Olympic gold medalist. Following the incident at the Dallas airport, the WNBA confirmed this arrangement with the Mercury, though it seems like there was definitely a miscommunication somewhere along the way.
"Given her special situation, the WNBA approved charter flights for BG for the 2023 season," a league spokesperson told ESPN. "We informed the Phoenix Mercury earlier this year to move ahead with any arrangements they felt were appropriate and needed, including charter flights."
There's a lot of blame to go around for this situation, most of it falling on the person who thought it was a good idea to go to the airport just to harass private citizens while they're waiting for a plane. And there's definitely some questions about where airport security was when all this was happening. But there's still blame left for the league and the Mercury who clearly did not have details taken care of the way they should have. Anyone could have told you it was only a matter of time before something like this happened.
The WNBA responded to the incident in a statement:
"As we gather additional information about today's incident at the Dallas Airport, it has come to our attention that this was orchestrated by a social media figure and provocateur. His actions were inappropriate and unfortunate."
"The safety of Brittney Griner and all WNBA players is our top priority. Prior to the season, the WNBA worked together with the Phoenix Mercury and BG's team to ensure her safety during her travel, which included charter flights for WNBA games and assigned security personnel with her at all times. We remain steadfastly committed to the highest standards of security for players."
The WNBPA, the player's union, was understandably much stronger in its assessment of the situation, as charter flights has been an ongoing issue for players.
"What BG and all of her PHX teammates experienced today was a calculated confrontation that left them feeling very unsafe," the union wrote in a statement. "Everyone who was paying attention knew this would happen. We could have and should have been more proactive. Allowing teams to fly charter is ONLY about player health and safety, and until the league and teams take this issue seriously, situations like this will continue to occur. Every commercial flight forced upon our players is a threat to their health and safety. We implore the league and the teams not to wait another day to change the rule regarding travel."
This is just the latest example of how continuing to have WNBA athletes fly commercial not only hurts the competitive nature of the game, it's unsafe for these players. Whatever the miscommunication is between the Mercury and the league, it needs to be clarified immediately. The WNBA claims this is a financial issue, but it's long past time for them to work with sponsors and team owners to get this done.