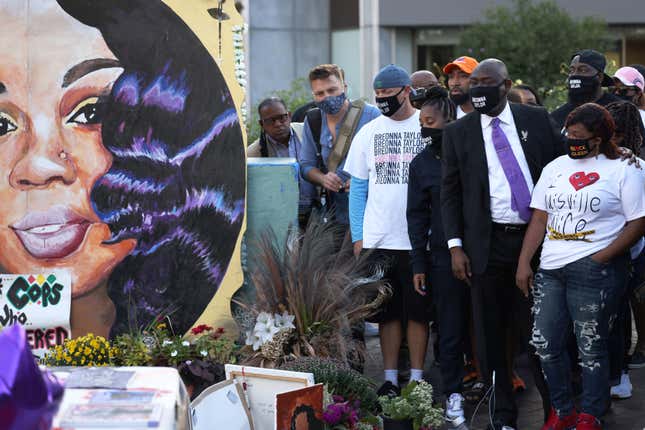 It's been over three years since the death of Breonna Taylor helped launch a national movement. But the fight for justice for the 26-year-old is far from over. On Monday, Breonna Taylor's mother endorsed a grassroots campaign aimed at blocking Republican Daniel Cameron's bid for Kentucky Governor.
Feds Charge Four Officers In Breonna Taylor Death, Allege A Conspiracy To Mislead
If his name rings any bells, it's because as Attorney General, Cameron was tasked with investigating Taylor's death. As most of our readers are aware, Taylor was shot to death by police officers who burst into her apartment late at night in March of 2020.
Taylor's boyfriend, Kenneth Walker, says that the couple were asleep when they heard loud banging followed by the officers breaking their door off its hinges. Fearing that it was Taylor's ex-boyfriend, Walker says he fired his weapon, which is when the police returned fire, shooting Taylor five times.
Understandably, as news spread that a young woman had been shot to death in the middle of the night, calls for justice followed. All eyes turned to Cameron, the first Black Attorney General, to see if he would deliver justice in this case. But to the shock and horror of many, Cameron did not ask the grand jury to bring criminal charges against the officers for killing Taylor, arguing that their actions were "justified."
Now, that determination could come back to haunt him. On what would have been her daughter's 30th birthday, Tamika Palmer, showed out in opposition to Cameron's campaign to unseat Kentucky Democratic Governor Andy Beshear.
"He decided that we didn't matter," Palmer told reporters, according to the AP, in a downtown Louisville. "He decided that Breonna didn't deserve justice."
Cameron has maintained that he was just following the law. However, Lonita Baker, who represented the Taylor family in their lawsuit against the city, called B.S.
"As a former prosecutor, I knew that there was sufficient evidence to indict the officers responsible," Baker said, according to the AP. "As a former prosecutor, I knew that Daniel Cameron did not even present the question of whether those officers should be indicted."