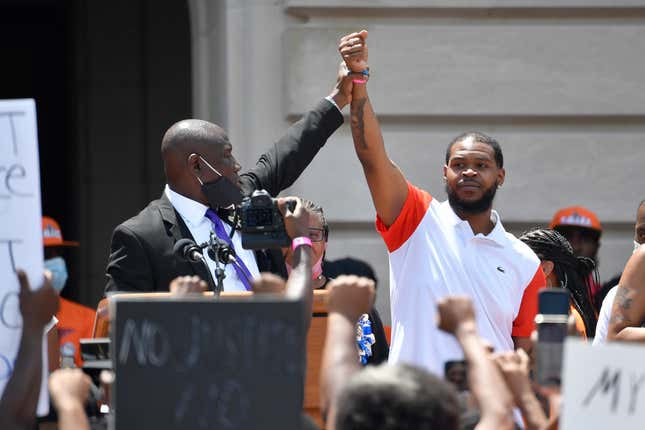 Updated of 12/20/2022 at 1:50 p.m. ET
Louisville Metro reached a $2 million settlement with Kenneth Walker, Breonna Taylor's boyfriend, per The Associated Press. The state and federal lawsuits claimed the officers violated Walker's rights by failing to announce themselves and using excessive force.

Feds Charge Four Officers In Breonna Taylor Death, Allege A Conspiracy To Mislead
Walker's attorney, Steve Romines, announced the settlement on December 12. According to the report, part of the settlement agreement would allow Walker to use the money to set up a scholarship fund for law school students looking to practice civil rights law. Some of the settlement money will also be donated toward the Center for Innovations in Community Safety at the Center at Georgetown Law School.
Though the financial retribution of the case will pour positively into the community, the incident itself still leaves Walker with serious trauma.
"He will live with the effects of being put in harm's way due to a falsified warrant, to being a victim of a hailstorm of gunfire and to suffering the unimaginable and horrific death of Breonna Taylor," Romines said, via AP.
At the time of Taylor's shooting, Walker was charged with assault and attempted murder of a police officer. Walker mistook former Louisville Metro Police Sgt. Jonathan Mattingly for an intruder and shot him in the leg when the officers burst through his door in complete darkness. His charges were dismissed permanently in March 2021.
However, he filed a state and federal lawsuit seeking damages against the city and the officers who raided Taylor's apartment.
More on Walker's lawsuits from The Courier Journal:
Walker's claims assert his rights were violated when officers obtained and approved the "materially false" search warrant, failed to announce before they entered Taylor's apartment and used excessive and unreasonable force. He also claims LMPD's policies, customs and practices led to these violations.

Walker's civil suits named Goodlett, former detective Joshua Jaynes and former Sgt. Kyle Meany for their purported role in falsifying and covering up the bad information used to obtain the warrant. All three were charged with federal civil rights violations in August.
Mattingly told The Journal that he and the other officers named in the lawsuits were released from having to pay in the settlement, including LMPD Detective Kelly Goodlett who pleaded guilty to falsifying information to get the search warrant for Taylor's home.
No other officers faced charges besides former officer Brett Hankison who was charged with violating Taylor's civil rights and that of her three neighbors who he shot at recklessly from outside the apartment.
Two million is not nearly enough to make up for the trauma Walker endured after he realized his girlfriend was shot to death while officers screamed in his face. The students who will receive scholarships from a fund in Breonna's name, however, will remember this case and the importance of bringing justice to other families who fell victim to police brutality.