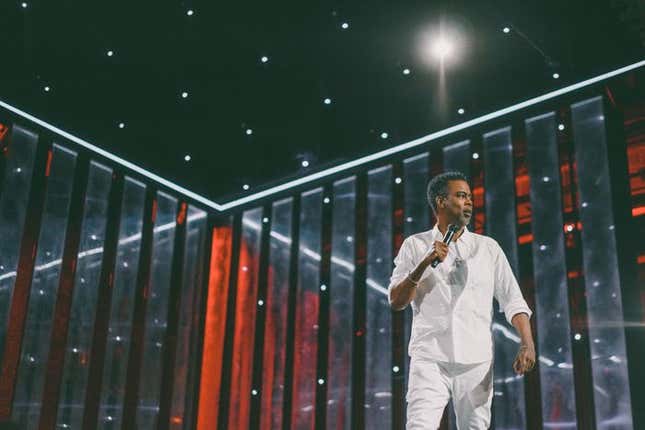 Chris Rock has done what he sought to do, get people talking. After the airing of his new Netflix special Selective Outrage, it has spawned countless conversations. Some have said that Rock deserved to be slapped by Will Smith at the 2022 Oscars. Reports have been leaked saying that Rock has been obsessed with Jada Pinkett-Smith for over 30 years.
Chris Rock's Selective Outrage Is To Promote Respectability Politics
But, maybe the most talked about topic that came out of Rock's controversial special is the claim that Rock used it as an opportunity to pander to white people. Just look at the tweets below and you can tell people are heated.
There was a lot of pandering going on all through the sketch,'' but the joke that most people used as evidence to claim Rock was pandering to white people was his final one. At the end of the special, Rock shared why he didn't hit Smith back after he got the Black smacked off of him.
He said, "A lot of people go, 'Chris, how come you didn't do nothing back? How come you didn't do nothing back that night.'"
He continued, "Cause I got parents, that's why. Cause I was raised. I got parents. And you know what my parents taught me: Don't fight in front of white people!"
He then slammed the mic and the crowd roared.
This is quite literally what pandering is. According to Merriam-Webster, pander means, "to provide gratification for others' desires." Essentially, what Chris is saying is that if White people don't think he should do something in front of them, he will gladly oblige, no questions asked, even if it's slapping someone when they deserve to get slapped.
So to answer the question, yes, Chris Rock was pandering to white people in his new Netflix special, and Black Twitter has plenty of evidence to back up their claims of the joke he made over the weekend in Baltimore.
In an infamous clip with Chris Rock, Jerry Seinfeld, Louis C.K. and Ricky Gervais, Rock essentially allows C.K. to say "Nigger" multiple in front of his face with no consequences of questions. He jokes about it along with C.K.
This pandering behavior is not new for Rock, and his joke to end his special and this damning clip are all the evidence you need.
Yes, Rock had moments in Selective Outrage where he called out White people's hilarious behavior and has also done so in the past in previous stand-ups, but that doesn't mean the comments he made at the end of the show weren't pandering and anyone who thinks otherwise must be joking.