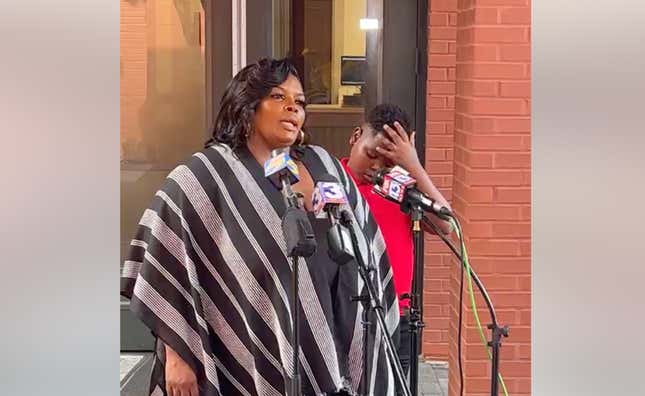 Last month, a Mississippi boy was approached by a swarm of police officers after relieving himself in a parking lot. Now, his mother lawyered up to file a federal lawsuit alleging her son's civil rights were violated.

Courtney B. Vance in Heist 88 Is Our Black TV Pick of the Week
On August 10, LaTonya Eason said she went to an appointment with a law office to seek legal advice for getting her children in school. She let her 10-year-old son, Quantanvious, wait in the car for her. All of a sudden, a Senatobia officer came walking in the building claiming he saw Eason's son outside urinating beside her vehicle. As any Black mother would, she said she went outside and fussed him out. She said her son explained he saw a sign on the building that said no public bathrooms and resorted to relieving himself on the property when he just couldn't hold it in any longer.
After she gave her "You know better, don't do that ish again," talk, she said the officer let them off with a warning. However, the situation Ms. Eason thought had been handled, only escalated moments later.
Read more from CNN:
Then four other Senatobia police officers, including a lieutenant arrived, according to Eason. She said her son was arrested, put in a police vehicle and taken to a police station.

Eason said the arresting officer said he had to take action. He "was like, 'Yeah, I got to arrest him. He can't do that.' He made my son get out of the car, told my baby to put his hands behind his back and they took him to the patrol car." Senatobia is located in northern Mississippi, less than 30 miles south of the Tennessee state line.
Though Senatobia Police Chief Richard Chandler asserted Quantavious wasn't handcuffed in the incident, attorney Carlos Moore said in a press conference he was held in a cell for nearly an hour awaiting Youth Court Referral paperwork before being released back to his mother.
Mississippi law says indecent exposure is a misdemeanor worthy of a $500 fine or less than 6 months imprisonment - for adults. Chief Chandler said the Youth Court Act allows officers to file a referral against children 10 years old if they commit an act otherwise illegal if they were an adult. He did admit that it was an error in judgement for the boy to be taken down to the station in a patrol car when his mother was present.
Following an internal investigation, one officer involved in the arrest left the department, per CNN's report. However, Ms. Eason wants an apology and accountability from the rest of the officers.
"Termination ain't good enough. You don't let him just resign after he placed my son in the backseat of a car. You put my child in a cage like he was a dog or something," Eason said. "My child didn't deserve that."
Moore said in a press conference they will file a federal lawsuit alleging Fourth and Fourteenth amendment violations.