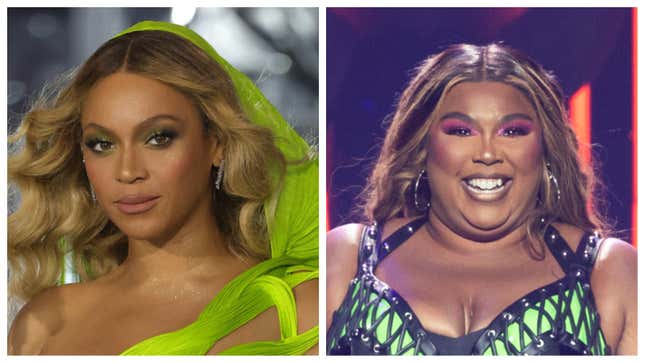 Despite the shocking allegations Lizzo may currently be battling against, it appears she has at least one major supporter in her corner: Beyoncé.
How Erykah Badu's "Tyrone" Became An Anthem For Black Women
In a now viral clip of the Renaissance Tour stop in Atlanta on Monday, Queen Bey can be heard shouting out Lizzo's name during her performance of "Break My Soul (The Queens Remix)." This is notable because the day the bombshell sexual harassment and fat-shaming lawsuit news dropped about Lizzo, Bey noticeably left her name off her shoutouts, instead opting to say Erykah Badu's name four times. Yet and still, it looks like Lizzo's back in action—at least for now.
"Lizzo, I love you Lizzo," Bey said.
As previously reported by The Root, the "Good As Hell" singer, her production company Big Grrrl Big Touring, Inc., and dance team captain Shirlene Quigley, are all being sued by three former backup dancers over allegations of "sexual, religious and racial harassment, disability discrimination, assault and false imprisonment." They've also accused Lizzo in particular of fat-shaming, which comes to the surprise of many considering body-positivity is the main message she built her brand and fame on.
In the immediate aftermath of the suit, both Quigley and Lizzo have denied any wrongdoing.
"My work ethic, morals and respectfulness have been questioned. My character has been criticized," Lizzo wrote in part in her first statement addressing the suit. "Usually I choose not to respond to false allegations but these are as unbelievable as they sound and too outrageous to not be addressed. These sensationalized stories are coming from former employees who have already publicly admitted that they were told their behavior on tour was inappropriate and unprofessional."
She continued:
"As an artist, I have always been very passionate about what I do. I take my music and my performances seriously because at the end of the day I only want to put out the best art that represents me and my fans. With passion comes hard work and high standards. Sometimes I have to make hard decisions but it's never my intention to make anyone feel uncomfortable or like they aren't valued as an important part of the team."

I am not here to be looked at as a victim, but I also know that I am not the villain that people and the media have portrayed me to be these last few days," she wrote. "I am very open with my sexuality and expressing myself but I cannot accept or allow people to use that openness to make me out to be something I am not. There is nothing I take more seriously than the respect we deserve as women in the world. I know what it feels like to be body shamed on a daily basis and would absolutely never criticize or terminate an employee because of their weight."
"I'm hurt but I will not let the good work I've done in the world be overshadowed by this. I want to thank everyone who has reached out in support to lift me up during this difficult time," she concluded.