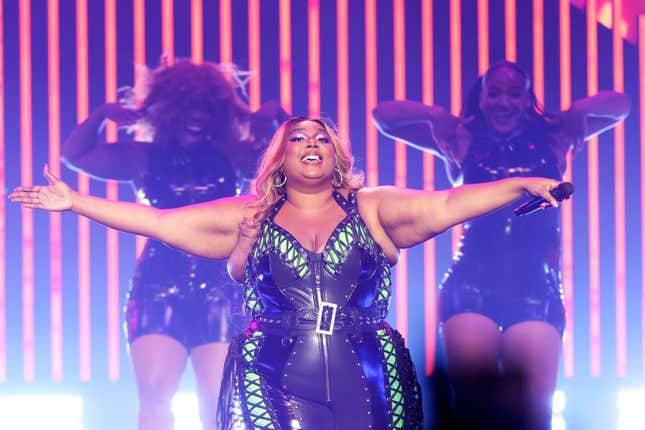 Updated on 8/9/2023 at 1:15p.m.PST: 
Shirlene Quigley—Lizzo's dance team captain that's currently being sued over allegations that she "continued her campaign of preaching Christianity and sexuality, deriding those who engaged in premarital sex while oversharing her masturbatory habits and sex life with her husband"—has finally responded to the suit.
In an Instagram post published over the weekend, the decorated dancer published a statement explaining that she wasn't going to "feed into negativity" and thanked those in her corner for her support.
"It is with a heavy heart that I address the recent allegations that have surfaced over the past few days. I want to categorically state that these accusations are not only baseless but also profoundly hurtful," she said.
She continued: "Throughout my twenty-year tenure in this industry, my success has been a result not just of hard work and dedication to my craft, but also of my unwavering commitment to integrity and authenticity. While it pains me to see individuals whom I supported resort to filing false allegations against me, I choose to embrace compassion for whatever challenging circumstances they are going through, rather than feed into negativity.
"I am steadfast in my determination to navigate this situation with grace and dignity, keeping in mind the tremendous love and passion I hold for my craft, the extraordinary people I have been fortunate to meet and collaborate with, and the unmovable faith that guides me."
"My priority remains in preserving the artistry and dedication that has defined my career. I am grateful for the continued support and understanding from my family, friends, and colleagues during this challenging time," she concluded.
Updated on 8/2/2023 at 12:45p.m. PST: 
Sophia Nahli Allison—the former director of the Love, Lizzo documentary who admitted she quit the project due to the singer's "disrespectful," "unkind," and "arrogant" treatment and spoke out in support of the three dancers suing the "Good as Hell" singer—is airing out more disheartening details about the entertainer.
In a separate post to her Instagram story, Allison wrote:
"To be clear: since I've spoken out I've had others privately share their very similar experiences, and I have have also been affirmed by people who witnessed what I went through. Lizzo creates an extremely toxic and hostile work environment and undermines the work, labor and authrority of other Black and brown womxn in the process. (Notice how the documentary ended up being directed by a cis white man.)

She is a narcissistic bully and has built her brand off of lies. I was excited to supprt and protect a Black woman through the documentary process but quickly learned her image and "message" was a curated facade."
"I stand with the dancers and anyone who has had similar experiences working with her and her team. These working conditions are not OK," she concluded.
See original story below.
Amid the shocking accusations of sexual harassment and body-shaming lobbed against Lizzo and her dance team captain, Shirlene Quigley, the latter has taken to social media to seemingly take a positive, Godly approach to the news.
In an Instagram post to Quigley's official page, she decided to spread joy by reminding her followers that "God loves them"—even if they don't love him—and express her gratitude over being back home after "an amazing time on tour" with "amazing people."
"I just wanted to get on here and quickly say God is so, so good. God loves you so, so, so, so, so, so much—no matter what you're going through," she began. "Even if you don't love Him, He loves you. Glory to God. I just wanted to remind you that He is love, He is truth, He is the light. He is the first and the last and all things work together for those that are called according to his purpose. And I just feel so blessed, I feel so thankful."
She continued: "I feel so full of joy. I had such an amazing time on tour with amazing people. And I'm so excited to be home resting with my family and my dog after an amazing experience. And yeah, I just wanted to tell everyone that God loves you and I love you and glory to God. And I hope you're smiling and you feel joy no matter where you're at or what you're going through. Because I'm telling you, God loves you."
Now while this may seem fine and dandy, where things get a bit weird (read: weird in a lowkey religious, cultish type of way) is that Quigley herself is being accused of essentially trying to force her religious beliefs off on at least three former members of Lizzo's dance team. According to the suit, after the ladies began working more closely with her, Quigley "continued her campaign of preaching Christianity and sexuality, deriding those who engaged in premarital sex while oversharing her masturbatory habits and sex life with her husband," per the complaint as previously reported by The Root.
Additionally, to make matters more murky in the hours following the bombshell news, a former creative director who worked on Lizzo's popular 2022 documentary Love, Lizzo, former background dancer, and former creative director spoke out in support of the women suing the entertainer.
"For clarification, I'm not apart of the lawsuit – but this was very much my experience in my time there," former dancer Courtney Hollinquest wrote on her Instagram Story post on Tuesday. "Big shoutout to the dancers who had the courage to bring this to light."
Reposting her comment with a statement of her own to her respective IG story, former creative director Quinn Whitney Wilson added, "Echoing what @cquestt said, I haven't been apart of that world for around three years for a reason. I very much applaud the dancers courage to bring this to light. And I grieve parts of my own experience. Id appreciate space to understand my feelings."
Added the former director of Love Lizzo, Sophia Nahli Allison: "I usually do not comment on anything pop culture related. But in 2019, I traveled a bit with Lizzo to be the director of her documentary. I walked away after two weeks. I was treated with so much disrespect by her. I witnessed how arrogant, self-centered and unkind she is. I was not protected and thrown into a shitty situation with little support."
"My spirit said to run as fast as you fucking can and I'm so grateful I trusted my gut. I felt gaslit and was deeply hurt but I've healed. Reading these reports made me realize how dangerous of a situation this was. This kind of abuse of power happens far too often. Much love and support to the dancers," she concluded.