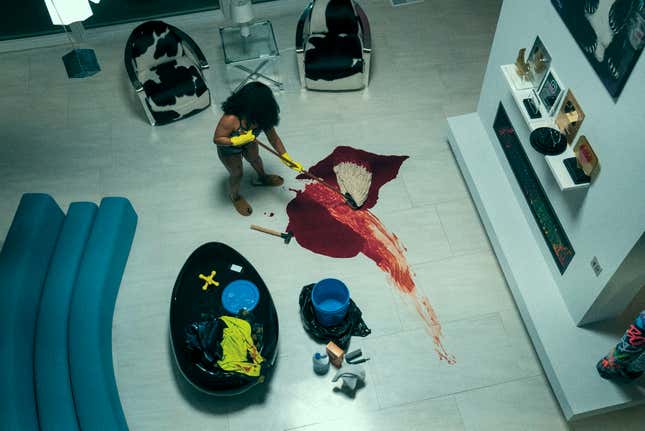 With Swarm—the latest psychological-horror, stan-centered satirical series from Janine Nabers and Donald Glover—finally out in the world, many are grappling with whether or not the events that transpire in the series are real or fake.
Beyoncé Becomes The Queen of The Grammys With Record Wins
Per Nabers herself in a recent interview with Variety, the show is "inspired by true events, news stories, and/or internet rumors." And before each episode plays, there's a message displayed at the very beginning that's meant to be a twist on the usual disclaimer TV/films put at the end of their projects to absolve them from legal trouble.
"This is not a work of fiction. Any similarity to actual persons, living or dead, or actual events, is intentional," the message reads.
Of course, given what we know about Glover's style of conflating fiction and non-fiction in a show (looking at you, Atlanta), it's no wonder why people are having a hard time figuring out the truth behind this trippy show. However, the truth is that the story of Dre, the crazed obsessive fan (brilliantly played by Dominque Fishback) is not real. Ni'jah, the pop star who's fashioned as this "Beyonce-like figure," is also not real. (Swarm, don't come for me.) But because the Lemonade singer and her hive of fans are a central point of inspiration, there are numerous references to several real-life happenings and/or internet rumors present in the show. So let's break them down:
Slight spoilers ahead.
In one of the episodes, there's a clip of an elevator fight between Ni'jah's sister and her husband, which is a callback to the infamous elevator fight that happened between Solange and Jay-Z in 2014.
In Episode Three, Dre bites Ni'jah after sneaking into an after-party, which is a callback to the news story that Beyonce was once allegedly bitten by Sanaa Lathan at an event back in 2018. 
In Episode Five, Ni'jah and her husband embark on the "Running Scared Tour" together, which is a callback to the "On the Run Tour" that Bey and Jay did in 2014 and 2018.
In the premiere episode, Ni'jah drops a surprise visual album that centers around her husband cheating on her, which is a callback to Bey's 2016 album Lemonade.
Around the midway point of the series, Ni'jah is revealed to be pregnant with twins in a post to social media after suffering a miscarriage years prior, which, of course, is a callback to Bey announcing her pregnancy with twins Rumi and Sir back in 2017.
In both the first episode and the last, Dre spends rent money to buy Ni'jah tickets, which pokes fun at the internet jokes about how high Beyonce tickets are and that people will shirk responsibilities in order to see her perform.
In the last episode, Dre, who goes by Tony at this point, finally gets the chance to see Ni'jah in concert but in a dazed state, pushes through the crowd and rushes the stage to get to her. This is a callback to the 2018 incident where a drunk Atlanta man hopped on stage to get to Bey and Jay after they finished their show.
In Episode Six, during a scene in a true crime mockumentary, a "real" stan talks about Dre's killing spree while dressed in a maroon and orange-striped jumpsuit, akin to the one Bey released with Adidas through her Ivy Park collection. There are also three strategically placed pillows on his bed that read: "Slay" (a nod to Bey's "Formation), "Fierce" (a nod to Bey's Sasha Fierce era), and one that's partially covered but reads "ey Ive" (arguably the clearest nod to the BeyHive, the name of Bey's fanbase.)
There are also more callbacks to real-life and television "easter eggs," but saying any more would take the fun out of watching this series and catching them for yourself.
All episodes of Swarm, starring Dominique Fishback, Chloe Bailey, and Damson Idris, are available to stream now on Prime Video.