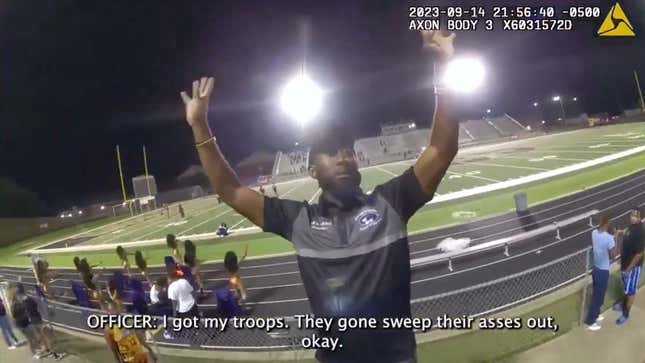 In Birmingham, Ala., police deployed a taser on an unarmed Black man with his hands in the air. Though, he wasn't surrendering to anything. He was literally directing a high school band.

Small Town Horror: The Story Of A Sheriff's Deputy Who Wielded A Lasso On A Suspect
Last Thursday, as the football game between Minor High School and Jackson-Olin High School ended, the Birmingham Police Department was present to clear out the stadium. However, as families and students exited the arena, the two bands stayed behind and continued to play. Officers then ordered the band directors from both schools to pack it up and leave so that the stragglers in the stadium would leave as well. However, the director of the Jackson-Olin band continued and shoo'd them away.
"We're fixing to go. This is our last song," said Johnny Mims to the officers, per the body camera footage.
The officers then threatened to contact the superintendent and told Mims that he would go to jail. Mims then shot them a thumbs up and kept directing. As the stadium lights went out and the band completed their piece (in a quite dramatic, slightly cinematic visual), you would think the cops would have backed off given the show was over. You thought wrong.
Read what happened next from CNN:
When Mims steps off the platform, a struggle ensues between him and the officers as they appear to try to handcuff him while he yells "get off of me."

"He hit the officer. He gotta go to jail," one officer is heard saying. "He swing on the officer."

Mims is then heard replying he "did not swing on the officer" as the struggle continues. Seconds later, an officer uses a Taser on Mims, bringing him to the ground as panicked screams are heard from the crowd around him.

"The arresting officer alleges the band director pushed him during the arrest," the police statement says. "The arresting officer then subdued the band director with a Taser which ended the physical confrontation."
I don't know about that, chief. The video shows Mims standing in front of the two officers while one held onto his wrist right when the taser was deployed. It's unclear in the videos if Mims pushed any of the police officers because of the commotion from the crowd of people surrounding them. Students were reaching for him, crying and yelling for the officers to let him go.
Mims was sent to the hospital and then booked in jail for disorderly conduct, harassment and resisting arrest. Luckily, he lawyered up and with his attorney, he's seeking punitive damages on allegations of his civil rights being violated, per WBRC.
"It is unacceptable for law enforcement to engage in home rule in the field of play or with regard to band activities unless there is a significant threat to the safety of the general public," wrote attorney Juandalynn Givan.