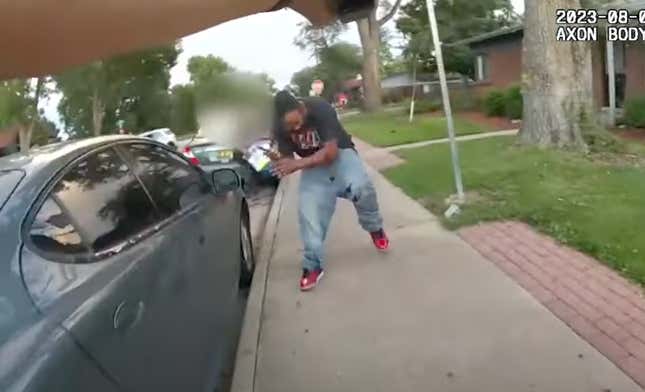 Brandon Cole is the latest Black man to die at the hands of a police officer who mistook a random object for a weapon. We've seen police shootings result from police mistaking phones, wallets and even a Subway sandwich for a gun. This time, the "weapon" was really a coloring marker.

Small Town Horror Story: The Killing of Aiyana Mo-Nay Stanley-Jones
Earlier this month, a neighbor called 911 to report a domestic dispute between Cole, his wife and young son. According to The Denver Post, the caller claimed that a woman was possibly pushed out of a wheelchair and Cole was trying to attack his son. Body camera footage released Monday shows the officers arriving at the scene, spotting a woman sitting on the curb next to a wheelchair.
"Don't, don't pull your gun out on my husband, please," she's heard telling the cops.
The woman then asked for an ambulance but was interrupted by Cole erratically shouting in the middle of the street. He then retrieved an item from his vehicle: a marker. However, one officer told a dispatcher that Cole was wielding a knife.
Cole then "took an aggressive stance" holding the marker in a "threatening manner," as described by Cmdr. Matt Clark. Moments later, the situation escalated.
Read more from The Denver Post:
"Let's go," he shouted. He walked toward one officer, who retreated and then fired a Taser at him. Police believe only one probe of the Taser struck the man, and so the less-lethal weapon did not stop him.

Cole then turned and charged at the other officer, who shot him. His wife's screams are heard on the body-worn camera footage.

Clark said Monday that the officer feared Cole would overtake her and stab her. She shot him when he was steps away; a young child and an adult stood immediately behind Cole.
The officer in question hasn't been identified by the department but according to the video, the cop appears to be a woman. The department has a few things to look over it seems - the killing itself and whether there was truly a domestic concern before they arrived, the report says. The Denver District Attorney's Office will decide after the investigation whether the officer should face charges in the killing.
The deputy who killed Frederick Cox after falsely claiming he had a firearm faced no charges. The officer who killed Stephon Clark after mistaking his phone for a gun faced no charges. Let's see how this incident unfolds.