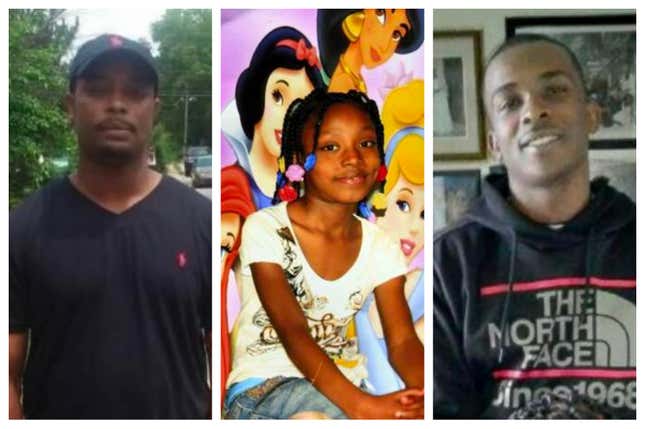 In a number of police brutality cases, the actions of a police officer are justified if the person is holding or reaching for a firearm, even when it is found later that the cop made a mistake. Recently, a Missouri Prosecutor has decided not to criminally charge two Independence Police Department officers who shot and killed 39-year-old Tyrea Pryor after a car crash after mistaking him for holding a gun.

Pryor's case is one of many examples of police brutality but here are seven examples of cops pulling the "they had a gun" card.

1. Tyrea M. Pryor
Dash camera footage from the March 11 incident shows officers approached a totaled white vehicle with Tyrea Pryor and a female passenger inside. They ordered the woman to exit the car and spoke with Pryor, who was disabled and groaning in pain. "He's got a gun," the officer said and immediately 15 shots rained toward Pryor. Authorities say they opened fire after seeing a "floating gun" when in reality, Pryor was unarmed, per The Kansas City Star. Moments after the shooting, another officer is heard saying, "I don't see a pistol."
2. Jayland Walker
Before Pryor's killing, 25-year-old Jayland Walker was shot and killed by Akron police in a hail of over 40 bullets. Authorities say before the shooting, they saw Walker fire a shot at them while being followed in a high-speed chase. The firearm they say was found in the back of his vehicle has been speculated to be planted there.
3. Frederick Cox
In 2020, Frederick Cox was shot and killed by High Point police outside a funeral after "being seen with a gun." Reports say the medical examiner didn't find any gun residue on Cox's hand and the deputy who suggested the false notion faced no charges in the death.
4. Donovan Lewis
Lewis was in bed when a group of Ohio police officers showed up at his door to serve an arrest warrant, per CBS News. The officers detained the other men in the house and unleashed a K-9 to find Lewis. When within seconds of opening his bedroom door, one officer shot at Lewis as he raised his arms with a vape pen in hand. No firearm was recovered from the scene.
5. Stephon Clark
In 2018, Clark was shot and killed in the backyard of his grandmother's house by Sacramento officers who mistook his cellphone for a firearm. None of the officers involved were criminally charged.
6. Sean Bell
Bell was out at a bachelor party the night before his wedding when he was shot and killed by plainclothes NYPD officers. The cops claimed they overheard one of Bell's friends ordering him to get a gun. However, witnesses say the officer came up by his car brandishing a firearm resulting in Bell trying to speed off. The officers fired over 50 rounds at Bell's vehicle and not were convicted in his death.
7. Aiyana Mo'Nay Stanley-Jones
The 7-year-old was shot in the head while asleep in her grandmother's living room. Officers from Detroit's Special Response Team raided the apartment, threw a flash-bang grenade and fired within seconds. They claimed they saw her grandmother reaching for one of their guns but she was on the other side of the room, according to Mother Jones.
Attorney Weighs In on Police Accountability
The Jackson County prosecutor deciding not to criminally charge the officers who shot Tyrea Pryor comes as no surprise given the exhaustive list of police killings we see in the news. Though, the absence of a guilty conviction suggests the police these life-threatening mistakes are on their job applications.
Civil rights attorney Harry Daniels, who is representing Pryor's family, told The Root what needs to be done to keep these tragedies from happening again is letting the law enforcement know they themselves are not above the law.
"It's accountability, charges, arrest, convictions, prison sentences - They unlawfully killed a man so they should be reviewed and presented to the grand jury for further charges unless they include murder If you shoot a person who is unarmed 'accidentally' or whatever you want to call it, then you know then you should be reviewed as to whether you committed murder or sometimes voluntary manslaughter," Daniels said.
The accountability people want to see is police officers being prosecuted as if they were citizens for committing these egregious crimes.