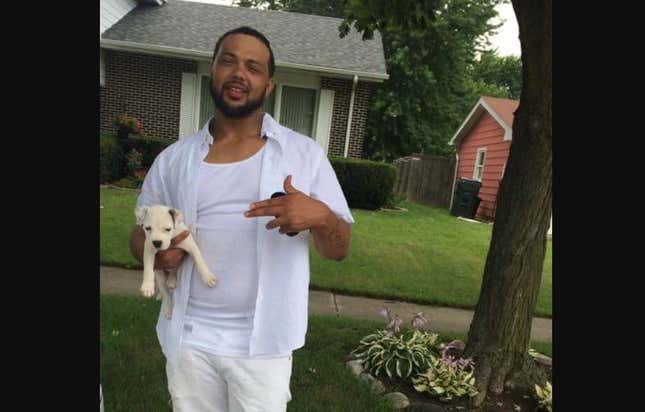 A Minneapolis federal jury has awarded the largest payout in city history to the mother of a Black man who was slain by two St. Paul police officers on March 15, 2017. Seven years later, the mayor is still a lil' salty and believes the officers were justified in the killing.

Small Town Horror Story: The Killing of Aiyana Mo-Nay Stanley-Jones
Officers Nathaniel Younce and Mikko Norman were responding to a 911 call from Cordale Quinn Handy, 29, who claimed there was someone in his apartment trying to kill him, per The Star Tribune. Court documents say he fired 16 shots into his couch, believing someone was hiding inside and took off running on the street. The officers ordered Handy to lie on the ground but within minutes, shots were fired. Authorities say Handy was acting erratically and raised his gun at the cops which prompted them to fire a total of seven shots at him.
Handy's mother, Kim Handy Jones, alleged in the civil lawsuit that her son was having a mental health crisis at the time of his death and tossed his gun seconds before being shot. A pathologist later testified that it was highly unlikely that Handy was even holding his gun at the time he was killed because he most likely used that hand to break his fall. The report says it was also revealed during the trial that his gun was unloaded.
The majority white jury's decision only found Younce liable in the shooting. He fired the first shots. The verdict was a long time coming given Handy-Jones filed a lawsuit immediately after her son's death but both sides agreed to dismiss her case in 2019 without a settlement, per AP News.
Read more from The Star Tribune:
"I feel that accountability has prevailed," said Handy's mother, Kimberly Handy-Jones, as she sat in the plaza outside the U.S. Courthouse in Minneapolis. Handy-Jones, who lives in Waukegan, Ill., and attended the six-day trial, has called the shooting unjust ever since it happened.

The verdict and the award, she said, "doesn't bring my son back. But it will open up doors for mothers around the world who have suffered a loss through police brutality."

Handy-Jones said that some of the funds will go to a foundation she created in her son's name in 2018 that provides tombstones for families "who lost children through police brutality and community violence."
St. Paul Mayor Melvin Carter reacted to the news that his city would have to pay a multi-million jackpot in shock at the amount and the jury's decision on the officer involved.
"My heartfelt condolences go out to Mr. Handy's family and friends for their devastating loss. ​I am, at the same time, surprised by both the finding of liability and the magnitude of damages awarded by the jury in this case. Our officers responded to a chaotic and dangerous scene centered around a person who, by all accounts, was acting erratically and had already fired 16 shots before police arrived," he said in a statement.
He'll be ight. Now, the families of those who have lost their children to police violence will have access to unprecedented funds for burying their dead through the Cordale Q. Handy In Remembrance of Me Foundation.