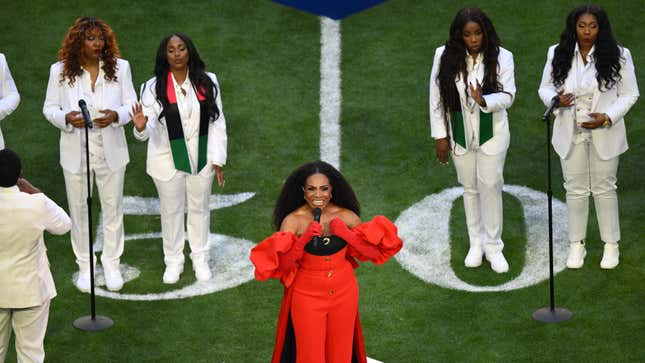 Emmy-winning actress Sheryl Lee Ralph may be known right now as the lovable veteran teacher Barbara Howard on ABC's Abbott Elementary, but ahead of the 2023 Super Bowl LVII game, she reminded everyone that she is first and foremost an entertainer's entertainer.
The 2023 Super Bowl's Top 5 Black Moments: From Historic Firsts To Rihanna's Baby Bump
Donning an ethereal-looking red jumpsuit, Ralph warmed up the the crowd with a stirring rendition of the Black national anthem, "Lift Every Voice and Sing." Alongside Ralph were several Black background singers, four of which sported colors of the Pan-African flag (red, green, and black for those unaware) on their white suits. Also joining them was an ASL signer donned in all black. As to be expected with anything Sheryl Lee Ralph, her performance was dramatic, moving, and a good reminder that she will forever be our Dreamgirl.
Likewise, beloved R&B legend Kenny "Babyface" Edmonds followed Ralph with a smooth yet soul-stirring performance of "America the Beautiful." Accompanied by his pink guitar and silky background vocals, Babyface undoubtably made us all proud to be present in that moment.










"This was the last time I sang America The Beautiful… in a play in 1974… 10th grade! 49 years later… LETS GO! #SBLVII," Babyface wrote on Instagram hours before the big game.
After he and Ralph peformed, popular country singer Chris Stapleton ended the pre-game festivities by singing the National Anthem, the "Star-Spangled Banner."
The 2023 Super Bowl LVII between the Kansas City Chiefs and the Philadelphia Eagles, led by superstar quarterbacks Patrick Mahomes and Jalen Hurts, respectively, kicked off at 6:30 p.m. ET. Who were you rooting for this year? Let us know in the comments!