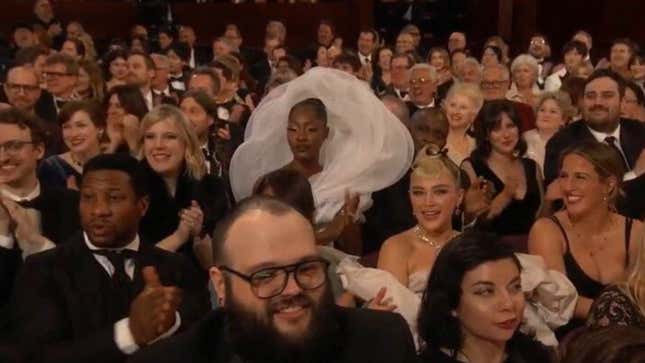 First and foremost, Tems looked amazing at the 2023 Oscars. I'm not the biggest fashionisto in the world, but if I had a pick for the best look of the night, I'd go with the talented Nigerian singer.

Stay Outta Black Businesses' Business
Even though plenty of others appreciated Tems' beautiful dress, others were more worried about the view of the attendees sitting behind her at the Dolby Theatre in Los Angeles, Calif.
People on Twitter complained, as they normally do, about the singer's breathtaking gown, with one user tweeting, "I guess the people behind the white veil don't get to see the show."
Another user wrote, "Who has to sit behind that woman with the white veil... rude."
First of all, that "Woman" is Nigerian singer Tems, and she's the brains behind one of the most beautifully-written songs of the past year, "Lift Me Up."
Others on social media attacked the designer of the dress, saying that they should've been more thoughtful and considerate when designing the gown.
Black Twitter to the rescue
Despite all the criticism, many on Black Twitter were not having it and fiercely came to the defense of the 27-year-old singer.
One Black user even took a more analytical viewpoint, writing in a Tweet, "Actually it is an ironic symbol, she is taking up space as a Black woman, whilst the white not only represents a femininity BW have traditionally not had access to but also how whiteness has obscured and obstructed paths of progress, in this essay…"
That's the kind of support I love to see. No hate. No criticism. Just acknowledging Tems beauty and celebrating that she's the topic of conversation.
But, as Black Twitter normally does, others made late of the situation, taking a more comedic approach.
Whether they were laughing at the situation or defending it, I'm glad Black Twitter could come together and turn a negative situation positive.

Yeah, I'm sure the people behind and beside her were bothered by the dress and in some cases, it made it difficult for them to see the stage. But the award show took place in a theater, I'm sure there were large screens for them to easily take in the show.

For those complaining, get a life.