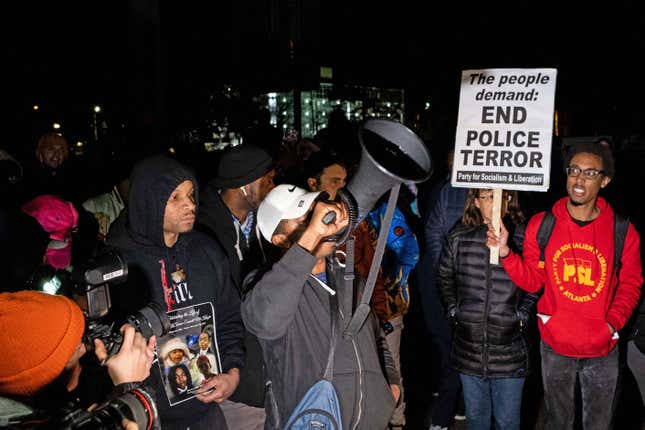 When Susan Clopp, the mother of Miciah Lee's, dialed the police in January 2020, she was desperate. Her son had a gun, she told dispatchers during one of the three calls she made to 9-1-1, and he intended "to die by cop or die by himself." But as cops arrived, they didn't see a teenager having a mental health crisis; they saw a threat.
A white officer shot Lee, who was Black, five times while the 18-year-old sat in his car with a gun between his legs and his hands in full view of the cop, according to the AP. Lee had a history of mental illness but no criminal history and wasn't suspected of any crime. Had he been white, argued the family's attorney, he would still be alive.
Lee's family settled with the city of Sparks, Nevada, for $2 million. The agreement also required that police officers in Sparks undergo more crisis intervention and mental health training. "I am greatly encouraged that Sparks has promised to provide to its officers more training, with oversight to ensure officers act pursuant to their training, and a tragedy like this will not occur again," wrote the family's attorney Terri Keyser-Cooper in a statement, obtained by the AP.
While this settlement will hopefully help bring closure to Lee's family, the facts of this case point to a larger problem with how law enforcement responds to people with mental illness.
In 2019, Taun Hall, a Black California mother, made a similar call to the police, begging them for help with her son Miles. He had a mental health episode while gardening with his grandmother and shattered the family window with a gardening tool. Hall knew that police weren't always great with people suffering from mental illness, which is why she'd kept in close contact with local law enforcement officers.
"I was like, 'OK, if they know him, they're gonna respond with care and compassion," Hall rationalized in an interview with ABC News.
But within minutes of calling 9-1-1, police arrived and fatally shot Miles Hall. Despite the fact that Miles was armed with nothing but gardening tools, officers were cleared of all charges. Stories like Hall's and Lee's are illustrative of a much larger issue. Roughly half of all people killed by law enforcement are disabled, according to the Center for American Progress. And more than half of disabled Black Americans have been arrested by the time they turn 28.
Sadly, there often aren't great options for families when a loved one is in crisis, especially if they're a danger to themselves or others. Some communities have worked to create better options. For example, fueled by her son's killing, Hall helped to create the Mobile Assistance Community Responders in Oakland. The unit, known as MACRO, gives community members the option to send a specialized non-law enforcement team equipped with an EMT and a crisis intervention specialist.
There has been some progress in bringing similar programs to places like New York City. But even in cities where mental health resources are available, cops are still deployed in lieu of sending competent mental professionals. For now, far too many Black families find themselves in an impossible situation when it comes to getting help for a loved one in crisis.