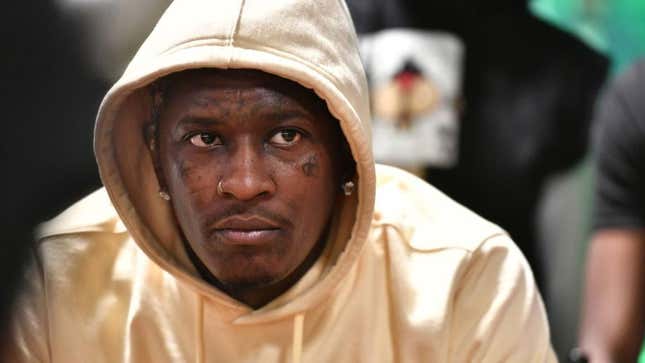 Why is Young Thug sitting in jail but Donald Trump is out on bond? That's the question the Atlanta rapper's father asks the whole world.
Can Donald Trump Serve As President From Prison?
Over the weekend, a picture of Thug's father, Jeffrey Williams Sr., was shared on social media. The photo showed him wearing a shirt that said "FREE YSL" and a poster that read, "FREE YSL. TRUMP & CREW GOT BOND, YOUNG THUG & YSL FACE THE EXACT SAME CHARGES BUT NO BOND? MAKE JUSTIVE FAIR!! WE DESERVE A FAIR FIGHT TOO FANI."

The fact that former President Donald Trump and YSL rapper Young Thug both face RICO charges in the exact same county is one of the weirdest things to happen this year.
Trump faces more than a dozen charges stemming from his alleged efforts to reverse the results of the 2020 presidential election results in Georgia. It's the fourth time this year alone that Trump has faced criminal charges.
He was released on a $200,000 bond shortly after his already infamous mugshot was released to the public.
In the case of Thug, he and many other members of his Young Stoner Life imprint were charged more than a year ago in a 56-count court indictment, alleging that they are members of a "criminal street gang." The charges include conspiring to violate the Racketeer Influenced and Corrupt Organizations (RICO) Act, murder, armed robbery, and criminal street gang activity.
Thug has been denied bond multiple times. In July, an Atlanta judge refused to release the Atlanta rapper from jail again despite him being behind bars for the past year. It was the fourth time his bond was denied.
Why is Thug behind bars and not Trump?
Simply put, lives aren't in danger in the Trump case, they allegedly are in the YSL RICO case.
When the "Hot" rapper was denied bond last month, Fulton County Superior Court Judge Ural Glanville alluded to conversations prosecutors have had with witnesses, saying that some of the witnesses suggested that Thug was "asking for permission to harm others," according to Billboard.
As a result, Judge Glanville denied his bond, saying, "The court finds that would pose a significant risk to the community."
While Trump is an absolute nuisance to all who despise him and the charges leveled against him are extremely serious, no witnesses are claiming that their lives are in danger because of him at the moment.
As much as I want to be angry about one being out on bond and the other not, I can't. One is being accused of non-violent offenses, the other is. It's pretty simple.