We always knew our forever first lady Michelle Obama had style; her understated, mostly accessible chic (remember all those J. Crew separates?) made her a polished and always poised favorite among our nation's first ladies.
But we'd be lying if we denied that it was her more glamorous moments we loved the best—whether it be in one of her multiple Vogue cover stories or the gorgeous array of gowns she wore to formal events while residing in the White House (never, ever forget that incredible rose gold sequined Versace she wore for her final state dinner).
So when our favorite Obama (no shade, Barack—you know it's true) ascended the stage at the Barclays Center in Brooklyn, N.Y., wearing a citron silk wrap dress and thigh-high, holographic, sequined stiletto boots—wait, are those stiletto leggings?!?!?—by Balenciaga, we basically passed out. (You looked cute too, SJP, but Auntie Michelle stunted on all of us. And thanks to a commenter, we received confirmation that they were indeed boots, which you can buy here for the bargain price of $3,900.)
When we finally came to, we were only capable of saying one word for the rest of the evening...
G/O Media may get a commission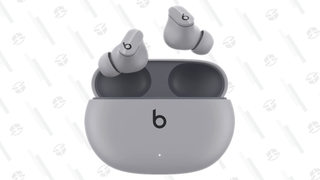 In the words of The Root's own Angela Helm, who was blessed to be in the building: "That outfit and boots were every single thing. Her nails. Her rings. Her hair. She looked GOOD."
She was sparkling. She was sexy. It was a stunning statement on our former first lady's new, more liberated life as a civilian—and now, bestselling author (in fact, she's rumored to be the first person of color to score a holiday number one book). And since it's #ThrowbackThursday, it prompted us to take a glance back at the dazzling and increasingly daring looks Mrs. Obama has been flexing since embarking on her book tour.

For instance, there was this glittering striped suit (because Auntie Michelle loves a striped suit) by Balmain, designed by black wunderkind and creative director Olivier Rousteing, that she wore for her most recent appearance on The Tonight Show Starring Jimmy Fallon. The only thing more dazzling was her smile.
Or her appearance in of-the-moment and black-owned label Pyer Moss, which has had almost as big a year as Obama herself, scoring both a CFDA/Vogue Fashion Fund win and runaway success with their Reebok collaboration.
And then, there was this sleek, off-the-shoulder set by British brand Safiyaa that she flawlessly flaunted during her tour stop in Detroit. I want one—like, yesterday.
We could seriously go on and on... and thankfully, we can, since Mrs. Obama's longtime stylist, Meredith Koop, put her creative skills to work making surrealist collages of her muse's looks over the past few months. While in no particular order, Koop included designer details so you can shop that look—that is, if you have a bestselling budget.
To begin (left to right): Mrs. Obama kicked off her book tour wearing a custom sequined top and crepe trouser pairing from Sally LaPointe. A subsequent stop would find her donning a powerful red power suit by Diane von Furstenberg. That sensual Becoming cover look? Koop and tailor Christy Rilling customized the white tee themselves and paired it with jeans from AG.
Another casually fine denim and relaxed top look (top left) came courtesy of Adam Lippes, but for her tour stop in the UK (middle), Obama wore a bespoke high-waisted jumpsuit by Meghan Markle fave Emilia Wickstead. For another appearance, she stayed on trend in an Adeam top paired with J Brand jeans.
Feminine but powerful has always been Obama's brand, and a pair of shapely suits by Christian Siriano fit the bill—especially when paired with a Tom Binns necklace (right).
Obama's strong set of suits continued with a cobalt cotton denim version by Akris, and a classic black double-breasted silhouette give an edgy accent with an embellished lapel by Christopher Kane.
And back to her beloved stripes: Jonathan Simkai (left) and Safiyaa laid them out for the modern icon in black and white (accented by a bag from 3.1 Philip Lim and diamond earrings by Vhernier). And last but not least, denim was anything but downplayed in a tailored Karen Walker suit paired with a tank from sustainable style-makers Reformation.
With many more Becoming tour stops recently added, we can only guess that Obama will be donning more show-stopping looks in the new year, so we'll keep our smelling salts at the ready. But in the meantime, as Koop asks, which was your favorite? We already know ours...