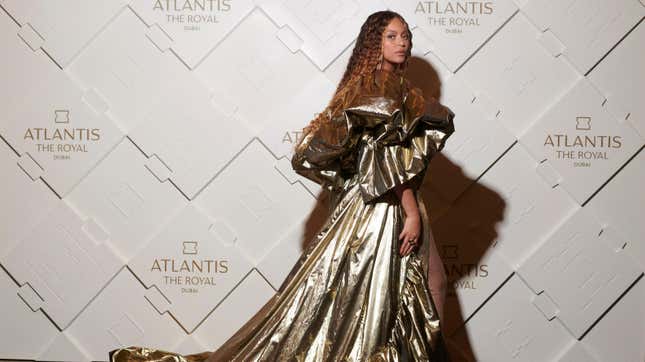 OMGOMGOMGOMGOMGOMGOMGOMGOOMG!
OK, now that that's out the way, let me momentarily regain my composure so I can share that Beyoncé has now officially confirmed her 2023 Renaissance World Tour!

After the news was first teased last October during WACO Theater's Wearable Art Gala, there had been much chatter as to when the "Cuff It" singer would announce it herself. Well, that moment came early Wednesday morning when she dropped a jaw-dropping photo of herself sitting atop of her now famous glittery silver horse (which the Twitter has comically referred to as "Reneigh) on her official Instagram page:
While tickets haven't been released for purchase just yet, tour dates have appeared on Beyonce's official website, which show she's set to make a 43-stop tour that begins in Europe in May. She'll hit up the UK, France, Spain, Germany, The Netherlands, and Poland for the first two months before heading back to the Western Hemisphere to begin that leg of the tour.

After beginning in Canada at the top of July, her first U.S. stop will be Philadelphia, before hitting up other major cities like Chicago, Detroit, New York City, Washington D.C., Atlanta, Miami, Las Vegas, Houston and New Orleans.
I don't know about you, but the fact that Bey waited until the first day of Black History Month to drop this news is not lost on me. You can't convince me that wasn't intentional, but I expect nothing less from the woman who personifies Black excellence and whose cultural impact will be talked about for years to come. It's also not lost on me that this announcement comes at the top of the month when rent (and other bills) are due! Come on Bey, you know I gotta keep my lights on! But I'd be lying if I said I wouldn't mind sitting in the dark for a few days if that meant I copped these tix.
Is that reckless? Maybe. But will it be worth it? Absolutely.