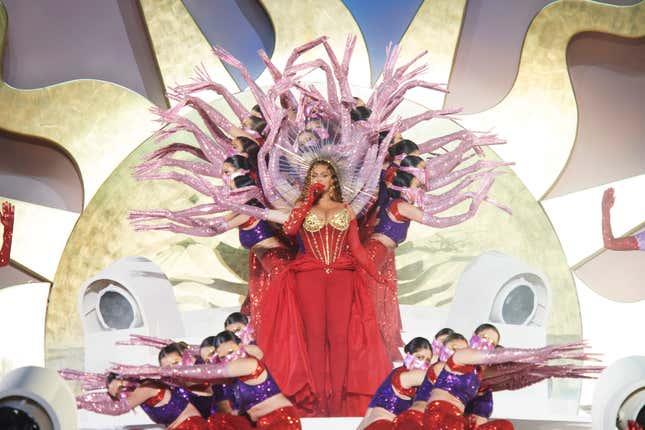 On Saturday, January 21, 2023, celebrities of all kinds, bloggers, influencers, and journalists were in attendance for Beyoncé's private concert for the Atlantis the Royal opening in Dubai.

As we watched the illegally recorded clips of the concert and jealously scrolled through Instagram posts of celebs shoulder-to-shoulder in gorgeous gowns and exclusive nightlife, others, specifically journalists, gave a side-eye. Why? Because some journalists felt that there was an ethical violation with their fellow coworkers in the industry participating in the thrilling weekend abroad.
We at The Root decided to speak to a few professional journalists and journalism professors to get their opinion about a possible ethical issue.
Kristal Brent Zook, an award-winning journalist, referred to the Society of Professional Journalists (SPJ) Code of Ethics which states that journalists should, "Refuse gifts, favors, fees, free travel and special treatment, and avoid political and other outside activities that may compromise integrity or impartiality, or may damage credibility." Zook emphasized the issue of not separating work from pleasure. One of Zook's biggest issues with the trip was that journalists had everything paid for by Beyoncé, rather than their publications, making it easier for journalists to have a skewed view of the trip saying, "No matter where you go, your publications should be paying for your hotel, your lodging, and all that."
In a story by Pitchfork, a publication invited to attend the trip, the invitation read: "Beyoncé invites you to a weekend where your dreams become your destination. You and a guest are invited for epicurean feasts, beachside indulgences, and special reveal experiences including business class airfare, first-class ground transportation, and first-class accommodations at Atlantis the Royal."
Zook does acknowledge that journalists get free things all of the time for their coverage stating, "journalism has those perks, you can cover movies and cover concerts, you get free books. That's part of the job. What's considered unethical is accepting other gifts that are beyond the purview of what you're supposed to be doing for work." The job of a journalist is to be an outsider looking in, and Zook believes that when a journalist accepts extravagant invitations that involve them experiencing the events rather than observing, it's ethically wrong. The Society of Professional Journalists (SPJ) Code of Ethics also states that journalists should, "Deny favored treatment to advertisers, donors or any other special interests, and resist internal and external pressure to influence coverage."
Journalism professor Yanick Rice Lamb of Howard University firmly believes that the invitation should've been turned down by journalists for the sake of not reporting to favor the person who invited them. The opportunity to possibly be in the same space as Beyoncé and have everything paid for in a different country, a luxurious one at that, is a once-in-a-lifetime experience like the invite stated. Lamb understands the excitement that probably went through invitees' heads saying, "the pressure of feeling obligated to not say certain things if someone was paying free, is the reason why a lot of times companies don't want you to take free trips or you know eat for free at restaurants or something like that."
Arionne Nettles, Lecturer and Director of Audio Journalism at Northwestern's Medill School, provided a different perspective about the invite acceptance issue. Nettles says that extravagant events are not unordinary for journalists to be invited to, but because of the uniqueness of this trip, people may find it an issue, "when I think about the logistics of it, I don't see it as an ethical issue because a lot of historically a lot of travel writers and entertainment writers have been able to experience this type of weekend, maybe again not to this level of extravagance but something similar." Nettles also wants to highlight how special this opportunity is for people who don't usually get the chance to cover an event like Beyoncé performing at a hotel opening in Dubai saying, " I absolutely see how collectively it can seem like a lot, but I think what I was heartened to see was how many Black journalists were able to participate in this, especially Black women journalists."
Nettles believes that accepting the invitation to go on the lavish trip to Dubai is not unethical as long as journalists are not taking anything extra than what was initially offered, and are honest about their reporting, "I think that it's about being a credible journalist and ensuring that you are truthful in what you report and, we know that this is complicated, it's not easy, but I think that these are luxuries that are afforded to entertainment journalists all the time, I think we just don't necessary and we as in Black journalists don't always get to see it."

The Dubai trip that kicked off 2023 had the world in a frenzy, with praise and criticism that filled the internet for days, and the journalism community is not exempt. While some journalists believe that this trip crossed the line of ethics, others thought it was for once the time for Black journalists to get the luxurious reporting opportunities that are often far too rare.