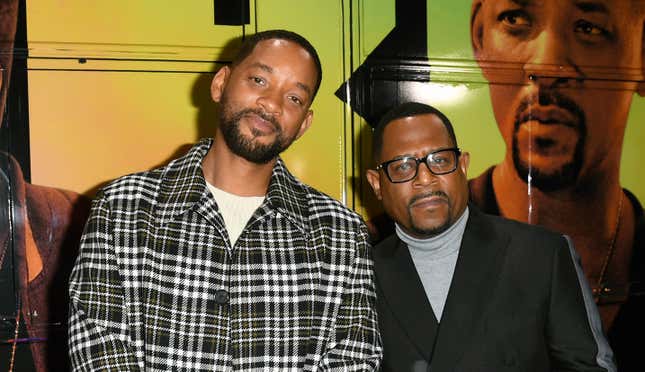 If you had Bad Boys 4 on your Will Smith apology tour bingo card, go ahead and mark that spot off, as Smith and co-star Martin Lawrence made an official announcement about the film's production Tuesday on Instagram. The video features Will driving to a surprise location, but when he starts playing "Shake Ya Tailfeather" from the Bad Boys II soundtrack, it becomes clear what's happening. Before he reaches his destination, the Oscar-winner says, "I wish I was you, not knowing what I'm about to show me."

Turns out, Smith was meeting Lawrence at his home, where the Martin star answers the door declaring, "It's about that time!" The duo then goes into a short comedy bit about the new film being Bad Boys 4 Life, even though that's what the last movie was called. The bottom line is, we're getting another ridiculous action-packed case with Miami-Dade police detectives Mike and Marcus.
When we last saw them in 2020's Bad Boys For Life, Marcus was welcoming his new grandchild, while Mike was offering his newly discovered son Armando a chance to get redemption for his criminal acts. Adil El Arbi and Bilall Fallah, who directed the previous film, will return to helm this outing.
I'm not ready to forgive Armando for everything he did in the third film, but I hope they bring him back to keep that story arc going. It gave Mike some desperately needed character depth. I'm expecting to get the usual shenanigans, but it would be nice to see the friends acknowledge their age because they can't continue to get shot, stabbed and beat up without feeling any physical consequences. I don't need them to turn into grumpy old men, but I need the film to admit that a lot of time has passed since we first met these characters in 1995's Bad Boys. It's been almost 30 years, so they should act like it.
On the list of things Will needs to do to bounce back from the Oscars slap, make Bad Boys 4 is basically No. 3 right after apologize and take time away from the spotlight. In case you're wondering, No. 4 is to remind everyone why they loved the Fresh Prince in the first place. He's definitely doing that in the announcement video, where he's in full "Will Smith, charming movie star" mode. Honestly, I wouldn't be surprised if we see him and DJ Jazzy Jeff performing the hits alongside the Philadelphia Eagles at the Super Bowl.
Personally, I was never mad at Will, so I'm excited to see him and Martin back in the saddle again.