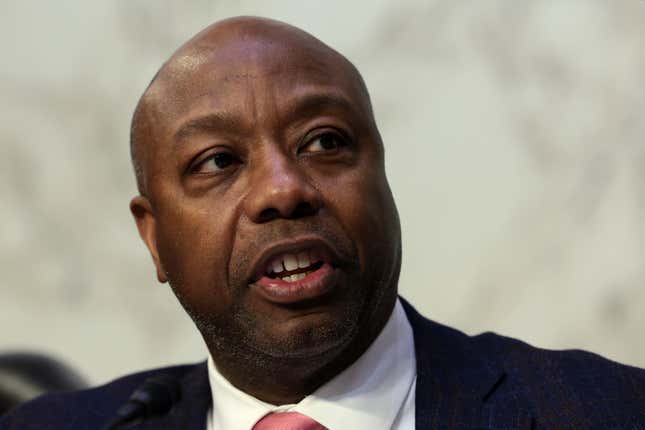 The Republican presidential primary is heating up, and while Donald Trump and Florida Governor Ron DeSantis have managed to suck up most of the oxygen in the room, another potential candidate seems to be making moves. That potential candidate is none other than Senator Tim Scott, the lone Black Republican Senator. According to reporting from the Hill, Scott has begun making moves on his campaign, such as hiring campaign staff and courting potential donors.
Small Town Horror: The Story of Fred Hampton's Premeditated Murder
Even if we didn't have that bit of insight from the Hill, his speech last month, where he did everything but announce his campaign, was a bit of a tip. The Republican Senator blasted Democrats and Biden for "living in the past" and getting voters addicted to "the drug of victimhood and the narcotic of despair."
Scott made sure to tout his accomplishments as proof that a lack of faith held people back, not all of the systemic barriers in their way at every turn.
"Conservatism is my personal proof there is no ceiling in life," said Scott. "I can go as high as my character, my education, and my perseverance will take me. I bear witness to that. I testify to that."
Stylistically it's hard to compare Scott to Trump or DeSantis. For one thing, Scott has a legitimately compelling story and he isn't getting into public spats left and right. But the message is eerily similar from all of these candidates, including former South Carolina Governor Nikki Haley: you, the average white voter, don't need to feel bad about racism. You don't need to treat people better; you don't need to care about systemic issues; you don't need to do anything differently than what you're doing now.
The elephant in the room is whether white voters (roughly 81 percent of Republican/ Republican-leaning voters are white) are interested in hearing that message from a Black candidate.
Scott is undoubtedly a conservative. He voted with Trump 91 percent of the time. But so far, Tim Scott is polling at roughly 1 percent in the Republican primary, according to the Morning Consult. He's well behind DeSantis, who also hasn't declared his candidacy. Trump is polling way ahead. But with his many lawsuits, it's hard to say whether he'll even be eligible for the Presidency.
Is Tim Scott Messy Enough for Republicans?
Things could definitely change once he officially announces but his potential path to success begs another question. Is part of what Republicans are attracted to is the mess?
Scott may be a hard-core conservative, but he doesn't have Trump or DeSantis' tact for pissing off large swaths of people every other day. And at this point, you have to assume that's part of the appeal for Republicans. It's obviously too soon to be making bets on who is going to win the Republican primary. Especially when one of the candidates is potentially facing several indictments. But it certainly remains to be seen whether Scott can stand out in a field of candidates where everyone else is vying to be the most obnoxious person in the room.